Paneer Rice | Veg Paneer Rice | Paneer Fry Rice with detailed photo and video recipe – An easy and simple stir rice recipe made with paneer cubes and choice of veggies. It is an ideal one pot meal rice recipe for lunch box or even for dinner.
Stir fry recipes are quite common these days in India and is common street food. There are many innovative recipes which are made with either with rice, vegetables or meat or combination of these. One such desi version of stir fry recipe is paneer fried rice recipe where paneer is added as the protein source.
I have posted quite a few rice recipes till now, but this recipe has to be one of the unique combo of Indian. I personally like this recipe due to 2 reasons. One it has my favorite ingredient i.e. paneer. And second the recipe is as a stir fry of paneer. I am not a huge fan of simple fried rice recipe by itself. i need some protein with it. Being a vegetarian.
Firstly, I would heavily recommend to use dry or leftover basmati rice for this recipe. If you plan to use freshly cooked rice, ensure to make it moisture free by drying it out in a plate. Secondly, with respect to the addition of vegetables, it is completely open ended. i have added the basic vegetables, but you can easily experiment with your preferences. Lastly, I have used fresh homemade paneer cubes for this recipe.
Visit my other popular and related recipes collection like
How to make Paneer Rice with Step by Step :
1. Firstly, in a bowl take 1 cup paneer. make sure to make small cubes.
2. Add 1 tsp ginger garlic paste, ¾ tsp chilli powder and ¼ tsp salt.
3. Mix well making sure all the spices are well combined. marinate for 20 minutes.
4. Now heat 2 tsp oil and add marinated paneer.
5. Roast on low to medium flame till it turns golden brown. do not overcook as it turns rubbery. keep aside.
6. In a large wok, heat 2 tbsp oil and saute 2 clove garlic.
7. Now add ½ carrot, ¼ red capsicum, ¼ green capsicum and white part of spring onion
8. Stir fry on high flame till the veggies are cooked yet crunchy.
9. Further add green part of spring onion and stir fry for few seconds.
10. Add 3 cup cooked rice. you can use freshly cooked rice or leftover rice here.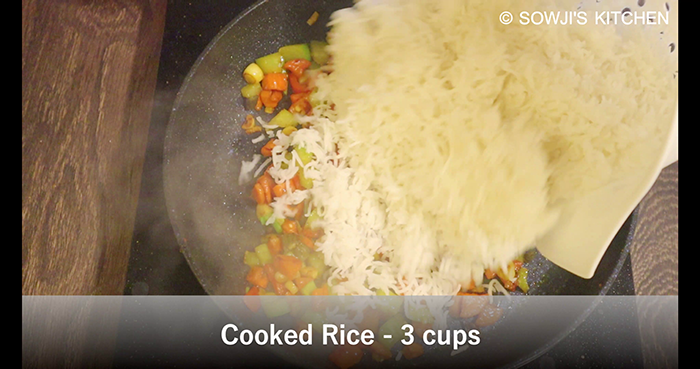 11. Add pepper powder and salt
12. stir fry on high flame combining everything well.
13. add in roasted paneer, 2 tbsp spring onion and mix well.
14. Finally, enjoy paneer rice .