Badam milk | Kesar badam drink with detailed photo and video recipe – Popular Indian drink made with milk and almonds and flavored with saffron and cardamom! Badam Milk can be enjoyed either hot or cold!
I am not much of a milk fan. In fact, when I was little I used to hate it. Mom would do everything she could to make me drink milk but I would always resist.
The only few ways that I would drink milk was when it was flavored or in milkshakes.
Chilled badam milk on a hot summer day was a treat that I enjoyed. Even though it had milk, it had these wonderful aroma of saffron and cardamom which made it delicious.
What is Badam Milk

Badam milk is a popular Indian drink where almonds are blended with milk and flavored with saffron and cardamom.
It's a very delicious drink but at the same time it's also very rich both in texture and also in calories.
I mean it's nearly impossible for me to drink a big glass even though I really like badam milk.
The drink is always served during weddings, special occasions, parties so yeah it's not something that people in India drink every day.
Serving Suggestions for Badam Milk

You can serve it either hot or cold.
I know a lot of people like it hot, but personally I only like badam milk chilled.
So once I make it, I pop it into the refrigerator for 4 to 5 hours until it's nicely chilled.
It makes the perfect treat on a hot summer day!
Health Benefits

It is really good for kids, as it is high in calcium and rich in protein, which is good for the overall growth of the children.
It also helps with stomach issues and treats constipation.
Drinking it before you go to sleep, also helps you with insomnia and gives you a good night sleep.
It is highly recommended for pregnant women too.
It helps build immunity, stronger bones, improves eyesight and helps in the overall development of the body.
Badam milk with detailed video recipe –
Badam milk recipe card :
Visit my other popular and related recipes collection like
How to make badam milk with detailed step by step :
1.Soak almond in hot water for 20 minutes. After 20 minutes, discard the water and then remove the skin from each almond. It will come off easily.
2. Transfer blanched almonds with ¼ cup milk to a blender. Blend to a smooth paste. Set it aside.
3. Now transfer the remaining milk to a pan and put in on medium-high heat.
4. Once the milk in the pan comes to a boil, add the prepared almond paste to it. Stir to combine.
5. Lower the heat to low medium and let the milk simmer for 15 to 20 minutes. Stir often so that milk doesn't get stuck to the bottom of the pan. The raw smell of almonds should disappear completely.
6. Add saffron to the boiling milk .
7. Then add the sugar and stir until it's dissolved.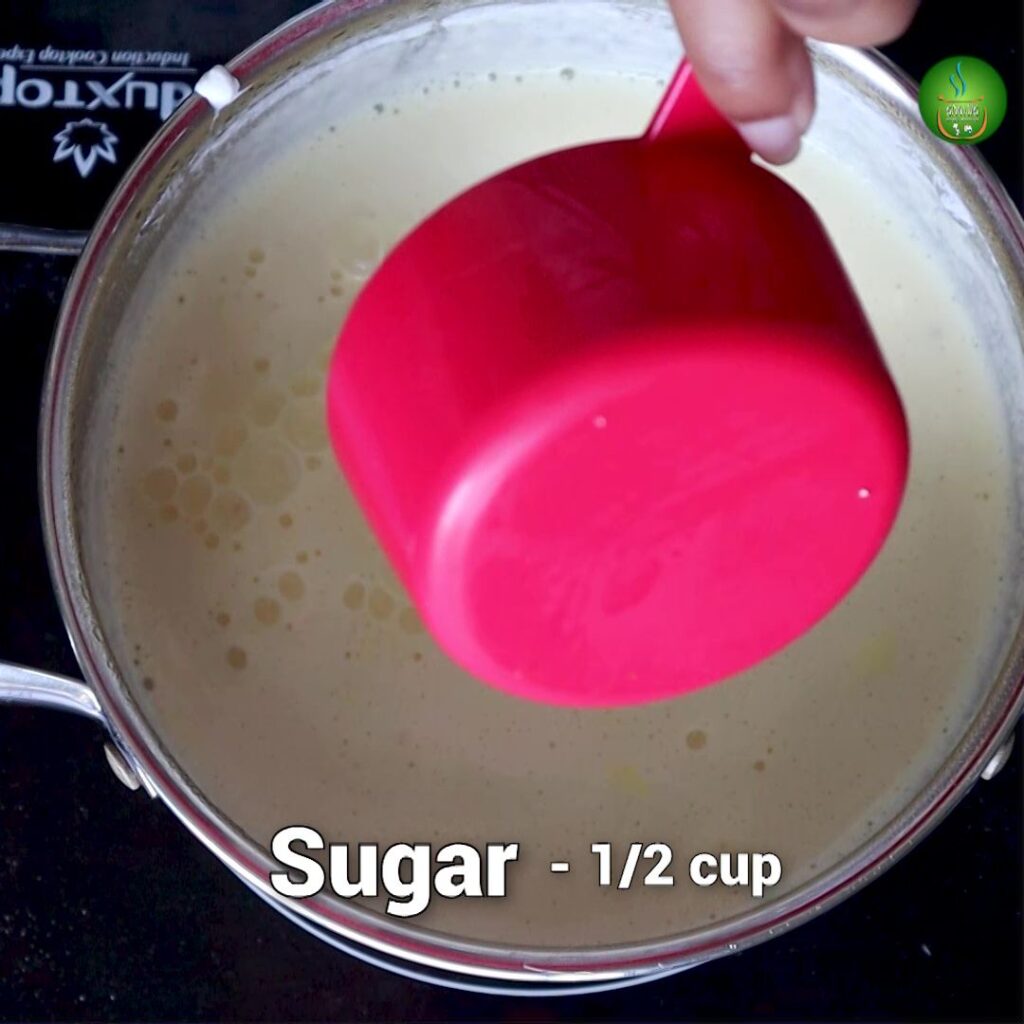 8. Finally add cardamom powder at this point. Mix everything together and turn off the heat.
9. Serve badam milk hot or cold. I personally love it chilled.