Mushroom Stroganoff | Creamy Mushroom Stroganoff (Vegetarian) with detailed photo and video recipe – Quick and easy to make in about 30 minutes, and it is perfectly comforting, hearty, savory, and delicious.
But seriously, this stroganoff is amazingly creamy, it's perfectly rich and it's dream-worthy buttery. And most importantly, it is loaded with so many mushrooms. This vegetarian Mushroom Stroganoff features tender mushrooms and pasta in a creamy sauce.
Stroganoff is probably the most famous dish to come out of Russia, other than Kiev (and that's actually the Ukraine.) This vegetarian version replaces steak with meaty mushrooms and adds a bit of Swiss chard for good measure.
But don't be fooled; this strog-y has the same creamy decadence and warm, rich flavors as the classic version. That makes it delicious in any country or language.
In this recipe we have used mushrooms, Swiss Chard and pasta are main ingredients. For getting creamy and tasty I have used Reserving pasta cooking water for creamy consistency. This salty, starchy liquid is perfect for adding flavor and controlling the thickness of sauces.
While the pasta are boiling, start working on the mushrooms. It's really pretty simple. Cook the mushrooms over high heat to get them caramelized, add garlic and leaves…smell the delicious smells.
Visit my other popular and related recipes collection like
How to make Creamy Mushroom Stroganoff with Step by Step :
Cooking pasta
1. Once water is boiling, add salt and oil.
2. Add pasta and cook until soft 8-10 minutes. Reserve ½ cup pasta cooking water.
3. Drain pasta in a colander. Set aside.
Cooking Vegetables
1.Place a large non-stick pan over medium-high heat and add 2 tsp olive oil.
2. Add mushrooms, Swiss chard stems, and ¼ tsp. salt to hot pan and stir often until lightly browned, 7-8 minutes.
3. Add Swiss chard leaves and half the garlic.
4. Stir occasionally until leaves are wilted, 3-4 minutes.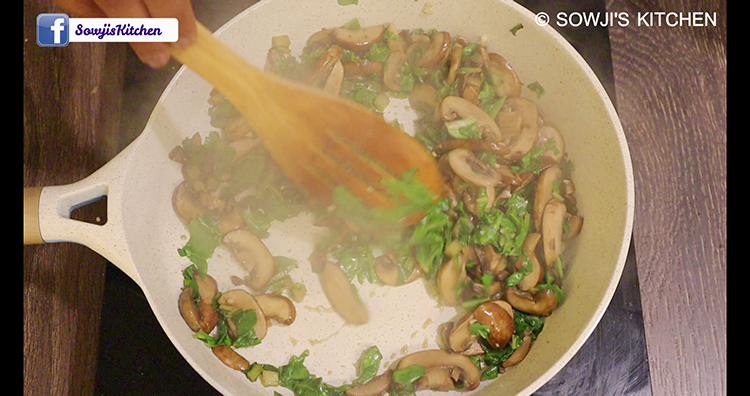 5. Add pasta cooking water, sour cream, mirepoix base, seasoning blend.
6. Add pasta to hot pan.
7. Stir often until combined and warmed through, 1-2 minutes.
8. Add Parmesan Cheese and stir until well-coated. Remove from burner.
9. Serve into bowl. Garnish with cheese
10. Serve hot with garlic bread