Pulihora | puliyogare | tamarind rice Andhra style with a detailed photo and video recipe. Andhra style pulihora is a tasty and tangy flavored rice recipe that is usually prepared during the festivals and also served for breakfast or lunch. Pulihora is a popular rice dish from ANDHRA CUISINE made with tamarind, rice, turmeric powder, green chilies, tempering spices & a lot of fresh curry leaves.
South Indian tamarind rice is known by different names in different states like puliyodarai in Tamilnadu, pulihora in Andhra, puliyogare in Karnataka. Each of these is tamarind rice with little variations per the regional favorite. Some variations include using Coriander seeds, Sesame seeds, Fenugreek seeds (methi) either as seed or a fine powder. It is also called chintapandu pulihora in Andhra since Tamarind is called Chintapandu or Chinthapandu in Telugu (the language spoken in Andhra).
This tamarind rice recipe is commonly made in south Indian homes and even served as prasadam in temples. The temple style pulihora is so delicious and flavorful, you can never have enough of it ?
You can easily get the store brought ready to use tamarind rice paste or puliyogare paste or pulihora masala powder to prepare this recipe. However, if you really want to get & enjoy the authentic taste and be sure of no unknown ingredients in the recipe, I would strongly recommend preparing the tamarind paste at home from scratch. 
Tips to make the perfect Andhra Style Pulihora
Use aged short-grain rice like Sona Masoori or jasmine rice instead of basmati rice. You want to use the rice that's cooked grainy and the newly harvested rice tends to become mushy easily. Use cooked rice that's rested and cooled down instead of using freshly cooked rice.
You can either pressure cook the rice or use a rice cooker. If you are cooking in the rice cooker once the rice is fully cooked take off the lid and cover the pot with a clean dry kitchen towel which absorbs the steam/excess moisture and makes the rice grainy.
The precooked rice contains less or no moisture, it retains the texture and easily absorbs the juices from the tamarind extract.
You can prepare the pulihora paste in advance and store it in the refrigerator in an airtight container. The paste stays fresh for a few weeks. You can just mix the paste with cooked rice to prepare tamarind rice.
Always rinse & soak tamarind in warm/hot water, and make a thick paste by squeezing. Filter the tamarind pulp to get rid of the fiber and unwanted debris etc. from the tamarind.
If you want to make temple style pulihora aka Prasadam Pulihora or Kovil Pulihora (as known in Tamilnadu), add a little bit of mustard powder or sesame seeds powder. Do not use both in the same recipe which will make it bitter.
Add peanuts and chana dal (senagapappu or Bengal gram) in the tempering which give little crunchiness to the recipe and enhance the taste of pulihora as they soak up in the tamarind juices over time.
pulihora | puliyogare | tamarind rice Andhra style step by step video recipe
pulihora | puliyogare | tamarind rice Andhra style Recipe Card
Visit my other popular and related recipes collection like
How to make Tamarind Rice with Step by Step :
Heat a pan with oil. Add chana dal, mustard seeds, urad dal, red chilies, green chili, and jeera. Fry until golden.
Add peanuts and curry leaves. Fry until the golden.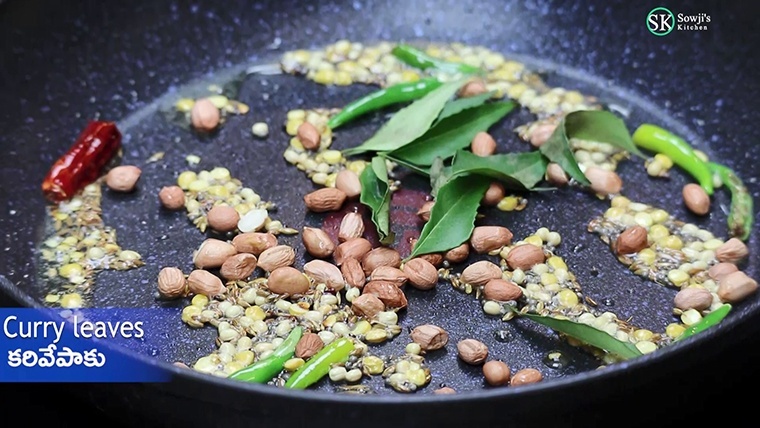 Add turmeric, hing, tamarind pulp, jaggery, and salt as per taste.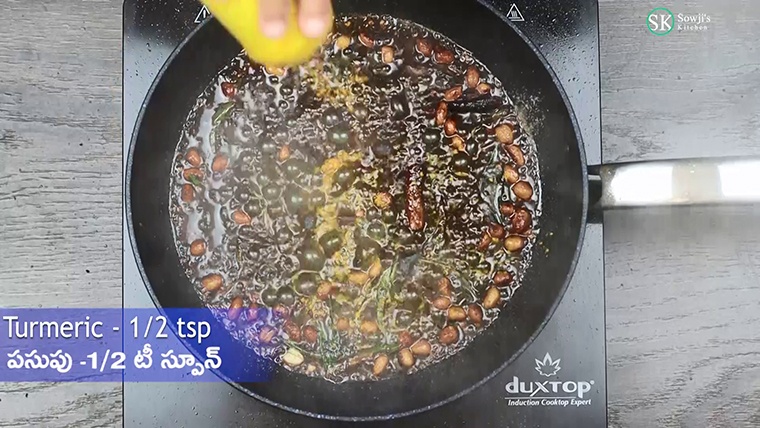 Cook until the mixture thickens for about 10 -15 mins on medium heat. Otherwise, pulihora will be very moist & mushy.
Let oil start separating from the mixture which means the mixture is fully cooked and ready to use.
Add rice to the pulihora paste and mix well.
Serve Andhra style tamarind rice or pulihora with fresh curd.