Sesame Seeds Rice is made with sesame seeds and is ground with spices to give a good flavor. This sesame powder is added to the cooked rice and is served hot. A quick, tasty and iron rich dish that can be eaten for a meal. Sesame seeds are highly nutritious and alkaline in nature. They have been traditionally consumed for the overall health of the body.
Sesame seeds are widely used in Indian cuisine to make ladoos , chikkis and curries. Sesame rice is one of the varieties you can when you do not have time to make a elaborate meal.
To make sesame rice, spiced sesame powder is made first. Then tempered and mixed with rice. You can make the spiced sesame powder ahead and store it in a storage jar. Just cook the rice and season it.
For Sesame Seed Rice
Cook rice until soft. When rice is warm, add a tsp of oil and spread it on a plate to cool. Mix needed amount of sesame seed powder and seasoning with the cooked rice. Top it with a tsp of ghee/clarified butter.
Sesame seed rice is ready to be serve.
Note – You can use white or black sesame seeds for making this rice. You can prepare this rice with white rice, brown rice or millets. You can also prepare this with leftover rice.
Visit my other popular and related recipes collection like
How to make Sesame Seeds Rice with Step by Step :
Making Sesame seeds powder
1. To prepare sesame seeds rice, start of with making the sesame seeds spice powder. Place a pan on medium heat.
2. Dry roast the sesame seeds, dry red chilies and cumin seeds until golden color on low heat.
3. Keep aside and let cool down completely.
4. Transfer to a blender and grind them into a coarse powder.
5. Add oil to a pan.
6. Add urad dal, chana dal, cumin seeds, peanuts, mustard seeds, green chilies, red chili and curry leaves.
7. Roast the ingredients until golden color.
8. Add hing and fry for minute.
9. Add coarse powder to this seasoning and mix well. Switch off the flame.
10. Transfer this mixture to cooked rice and add salt per taste.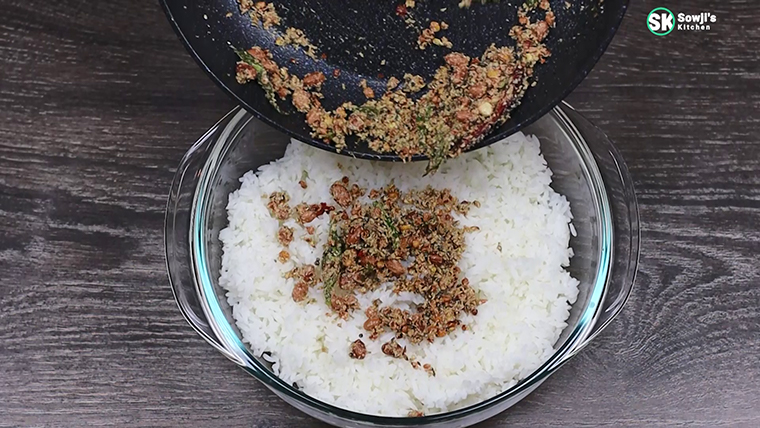 11. Add lemon juice and mix everything together.
12. Serve the Sesame Seeds Rice hot.