Today's recipe Celery Tomato Chutney is something you probably have never heard of, but trust me, it's very tasty & you will love it once you taste. Chutneys are a staple food in Southern India. Chutneys can be made with a variety of vegetables. Mix n match a variety of vegetables, nuts, seeds to make rich, enticing, exquisite chutney. This is a Vegan, vegetarian, gluten-free. Whichever vegetable you make chutney out of, Chutney is loaded with iron, vitamins, and antioxidants.
Traditionally, vegetables are cooked in spices and crushed with the hand in a mortar pestle to make chutney. In the modern generation, grinders are used. Chutney is usually consumed with rice and ghee poured on top. Lately, with low carb consciousness, people prefer eating chutneys as homemade dips for tortilla chips, pita chips, south Indian snacks as sakinalu, janthikalu, and karappusa.
They make excellent all-natural condiments too. Chutneys are one of the easiest recipes to make. Chutney can be made with little effort and a handful of fresh ingredients. The secret for perfect chutney is a balanced amount of vegetables, chilies, salt, and a sour agent usually tamarind. Optionally jaggery can be added. Salt, chilies, sourness, and sweet blends into a unique tasty dish.
If you are used to eating raw crunchy celery with ranch and cooked in soups, you should know that are a lot more ways to eat celery in many enticing ways. Along with celery crunchiness and taste, it's anti-inflammatory health benefits, are enigmatic. Consuming fruits and vegetables of all kinds is associated with quality health. It significantly lowers the risk of many lifestyle-related health conditions. Eating green vegetables as celery decreases the risk of obesity, diabetes, heart disease, and weight gain.
Celery Tomato Chutney Recipe Video
Celery Chutney Recipe Card
Visit my other popular and related recipes collection like
How to make Celery Tomato Pachadi with Step by Step
Clean celery thoroughly, dice celery into ½ inch pieces.
2. Heat oil in a pot. Heat to medium.
3. Add chana dal, urad dal, peanuts, sesame seeds, cumin seeds , green chili, red chili and garlic
4. Fry till golden brown and keep them aside.
5. In the same pan add celery and tomatoes
6. Add salt and turmeric
7. Cook on medium heat with lid covered.
8. Transfer the dal and celery mixture into blender.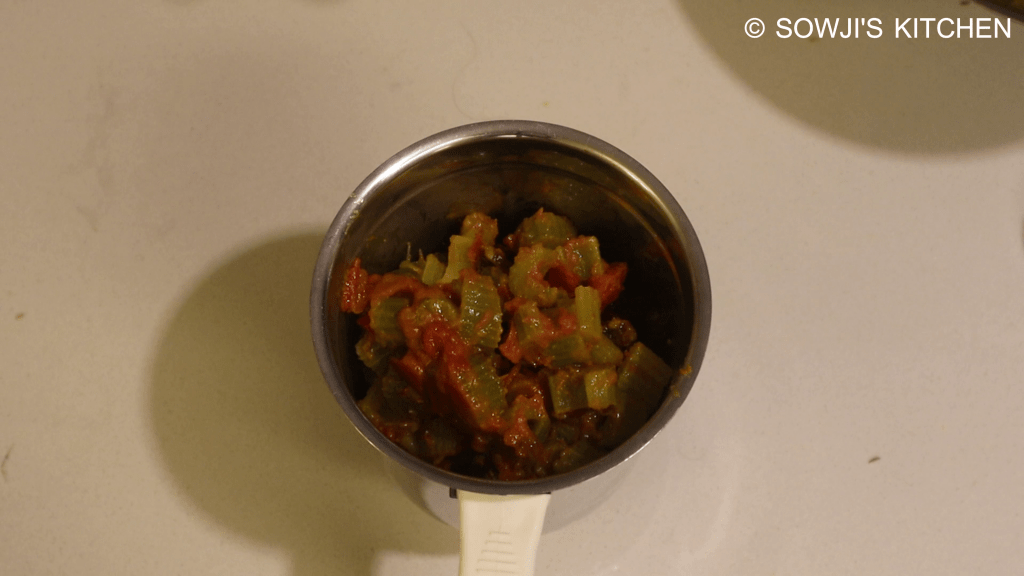 9. Pulse slowly until soft. Make sure all pieces are ground.
10. Transfer to a bowl.
11. Now, prepare to seasoning. Pour 1½ to 2 tbsp oil in a pot. Heat to medium-high.
12. Add ingredients under seasoning , fry until golden brown.
13. Add seasoning to chutney .
14. This chutney will stay fresh in the refrigerator for 1 week. Use it for as many meals within a week.
15. Serve with rice, dosa, idly or roti