Kaju Katli | How to make kaju katli recipe | Kaju burfi recipe with detailed photo and video recipec – These are Thin, smooth, melt in the mouth slices of cashew goodness. Ideally kaju katli should be thin and not thick like a barfi. The word 'katli' means 'thin slices'.
kaju katli recipe is prepared during indian festivals like diwali, navaratri and raksha bandhan.
so here i am with this easy kaju katli recipe for this auspicious occasion of Diwali.
About Kaju Katli
It is a basically cashew fudge and it is a most sought after and loved Indian sweet. Whenever we get a big box of kaju barfi at home, they just get over in a couple of days.
cashew katli recipe is made by making a thick sugar syrup, to which the powdered cashews are added.
If you stay in India then during Diwali festival you might receive a box of kaju katli or dry fruits as a gift.
It is one of the most popular sweets which is gifted to relatives and friends during the Diwali festival in India.
I will not say making kaju katli at home is easy. Honestly speaking it is not. If you are making for the first time, then just forgive yourself if the kaju katli does not turn out well.
I tried different methods of making kaju katli at home. All the recipes & methods of making kaju barfi were disasters.
Twice I ended up making something else from the kaju barfi mixture and once I had to throw away the whole kaju barfi mixture. Something which I hate doing. I could not save the cashew fudge in any way.
From these disasters I learnt a few things that contribute to get a perfect kaju katli which are:
The texture of the powdered cashews
The consistency of the sugar syrup
Texture of cashew dough
Why kneading the cashew dough is important.
Learning from my trials, I was able to develop this fool-proof recipe of kaju katli.
This step by a step post is a sincere attempt to share the method to get the perfect kaju katli at home.
Since I actually struggled with this Indian sweet many times while making the other Indian sweets were a cake walk.
Edible silver foil (varak) is also placed on the kaju burfi. Since I don't use varak, I have skipped it completely.
Kaju katli detailed video recipe :
Recipe card for kaju katli :
Visit my other popular and related recipes collection like
How to make Kaju katli recipe with step by step :
Grinding Cashews
1. Powder the cashew in a coffee grinder or a dry grinder.
2. Grind the kaju to a smooth powder. Make sure you don't over do the grinding process as oil should not release from the cashews. I ran the mixer at a stretch first and then scraped the sides and ran again at intervals for a couple of times.. (The cashews should be in powder form and not become pasty. If there are tiny pieces in the cashew powder, then just let it be….. Or you can also sieve the cashew powder and keep aside. )
Making Kaju Katli Mixture
1.On a low flame heat sugar and water in a thick bottomed or non stick pan or kadai.
2.Meanwhile grease a plate or a tray and keep aside or keep butter papers ready.
3. When all the sugar dissolved in the water, add the cashew powder. There is no consistency in the sugar syrup required like one string or two string. Just let the sugar dissolve in the water and then proceed with the next step.
4. Stir and keep on stirring the cashew mixture on a low flame.
5. The cashew mixture would start thickening.
6. Cook the kaju mixture for approx 10-12 minutes till the whole mixture starts to come together.
Making Kaju Katli
1.Remove the whole lump of the kaju mixture from the pan and place it on work surface, bowl or plate.
2. Add ghee to the cashew mixture.
3. When the heat in the mixture is hot enough to handle, then knead the cashew mixture. (Knead the dough lightly. Don't over do as this will release oil from the cashews. The grainy texture in the dough goes away as you knead it. Remember the dough should be hot while kneading. You can also apply some oil or ghee on your palms instead of adding ghee/oil separately. In case the dough is soft, then add a teaspoon of some milk powder. If the dough looks dry or dense, add a teaspoon of milk to soften it.)
4. Flatten the dough and place it on a butter paper or on a greased plate/thali or tray.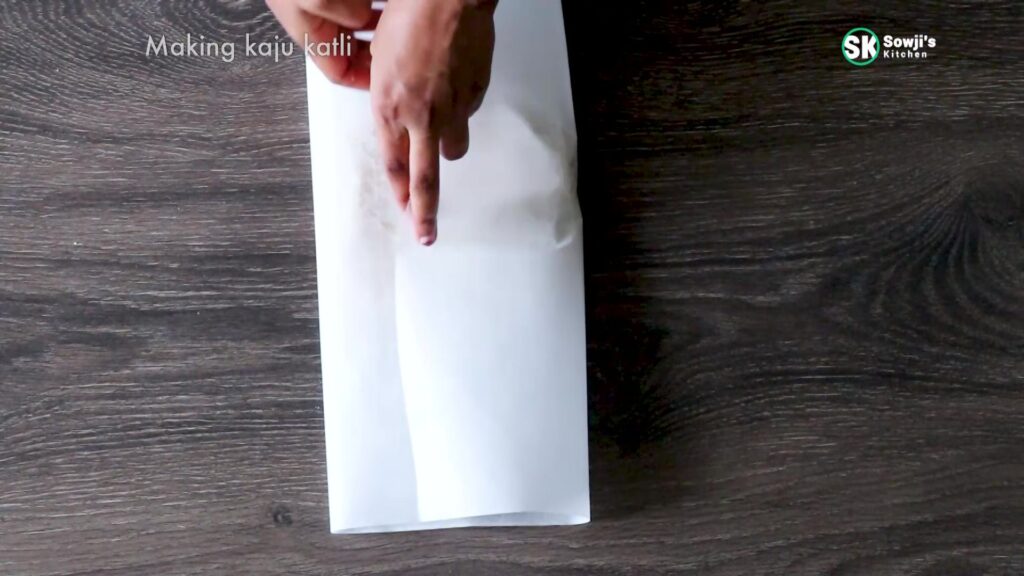 5. Place a butter paper on top and then using a rolling pin, roll gently the dough from all sides till you reach a thickness of 3-5 mm in the dough.
6. Rest for 1 hr or until completely set.
7. When completely cooled, using a sharp knife cut the cashew dough giving square or diamond shapes.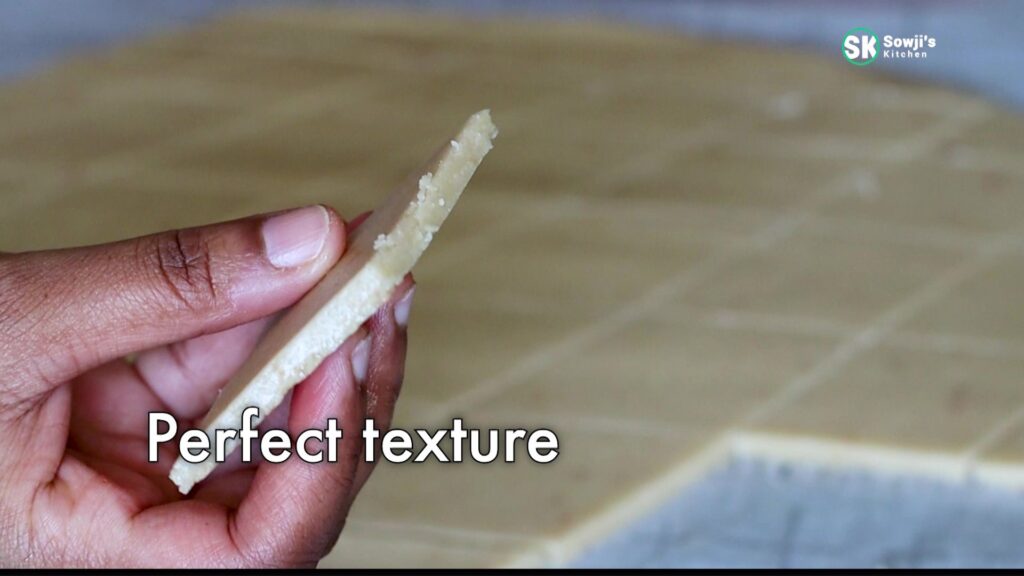 8. Gently remove the kaju katli with a butter knife.
9. Serve the kaju katli straight away or keep in an air tight container.