Coconut Laddu | కొబ్బరి ఉండలు | Coconut Jaggery Laddoo Recipe with detailed video and photo recipe – These fresh coconut jaggery laddoos are called as Kobbari Louz or Kobbari Undalu or Nariyal laddoo. This is a very popular sweet of India made during festivals like Diwali, Dussera, etc. These are packed with goodness of nutrition and are so tasty. These can be made with either sugar or jaggery, the jaggery ones are much healthier and tastier.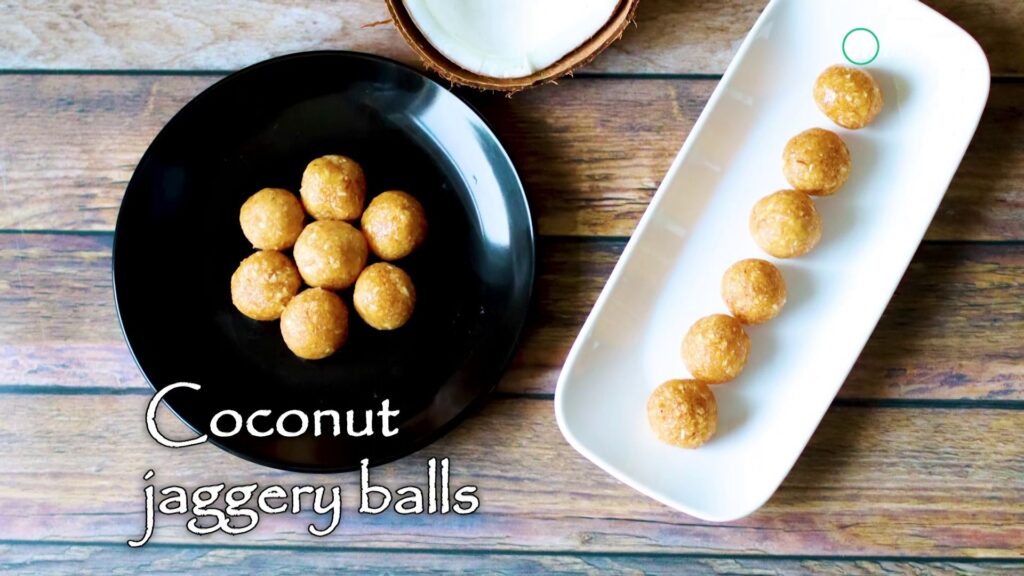 This recipe is my all time favorite since my childhood. When I was a child, my mom used to make these kobbari undalu in bunches and store them for us as an after-school snack and also as a special for Diwali festival.
Off late, I'm making these Kobarri laddus a lot, for my daughter because it is very healthy for kids. These Coconut laddus are chewy, juicy and most importantly, so tasty. And, wait, these are so healthy as well. Rich in fiber and essential vitamins and minerals, they help in converting the bad cholesterols into good & healthy cholesterols, in turn promoting a healthy heart. We used jaggery (bellam) instead of refined sugar which is very healthy.
How to make Fresh grated coconut
Cut fresh coconut into 1 inch pieces and transfer them to a mixer or food processor.
Pulse the mixer for 1 or 2 mins, until the coconut is nicely shredded.
In the US and probably in a lot of other places too, grated coconut is available in the frozen food section in every Asian grocery store. Kobbari laddu recipe tastes great when prepared with fresh coconut.
Tips to make Coconut laddoo or Kobbari laddu
Choosing coconut: Fresh coconut tastes best to make these balls. But you can also use frozen coconut or desiccated coconut. If using desiccated coconut then use the fine shreds and not large ones.
Sweetener: You can use sugar, jaggery, palm jaggery or condensed milk to sweeten the balls. The coconut ladoos made with jaggery are the best in taste. If you prefer less sweeter ladoos, you may add ¼ cup dry desiccated coconut.
This sweet treat is finger-food friendly, just pick one and pop-in-your-mouth ?. It's completely Vegetarian and Gluten-Free. For Vegan version, roast the shredded coconut in coconut oil instead of ghee.
The best thing that I like about these coconut jaggery ladoos is that they are very easy to prepare with just two or three ingredients. This coconut laddu recipe or Nariyal ladoo has only 2 key ingredients and takes not more than 15 mins to come together. It is perfect for looking instant, quick and easy sweet recipes for festivals (Diwali, dussera). I have added cardamom powder in this recipe (the third ingredient), if you don't like cardamom flavor you can totally skip it. If you overcook the Jaggery syrup or sugar syrup beyond the 1 thread consistency, the coconut ladoo will become hard and not chewy.
check my other indian sweet recipes collection with jaggery Chia seeds ladoo , jaggery cake, Peanut chikki and Craked wheat halwa .
Coconut Laddu Video recipe:
Coconut Laddu Recipe Card:
Visit my other popular and related recipes collection like
How to make Coconut ladoo with step by step :
Heat 1 tablespoon of ghee in a frying pan and add Fresh grated coconut. Saute for 5 minutes on medium heat until the moisture evaporates.
In a pan add grated jaggery, little water and boil it. Once the jaggery melt, it forms one string consistency.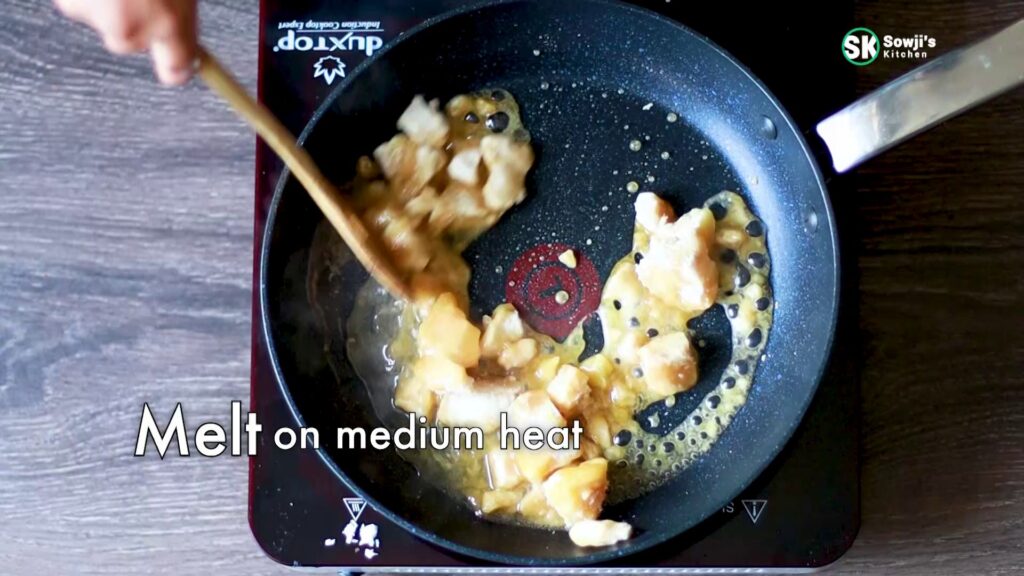 Add fried shredded coconut, 1/2 teaspoon cardamom powder and mix well.
Cook on as low heat as possible and slowly. Keep stirring to avoid sticking/burning at the bottom of the pan. Cook until the mixture becomes thick.
Coconut jaggery mixture is ready. Now switch off the heat and transfer it into a plate. At this stage the coconut ladoo mixture would be little moist & chewy.
when the mixture becomes thick and warm, grease ghee your palm and take small portion of the coconut mixture and prepare round shaped balls (Ladoo) with the mixture.
The yummy coconut and jaggery laddu is ready to serve.
Enjoy Kobbari laddu and store them in airtight container in the refrigerator.