sev puri recipe | how to make sev batata poori chaat with detailed photo and video recipe –
A popular Mumbai street food, Sev Puri is a sweet, spicy and tangy chaat. Sev Puri is made with crispy puri, topped with potatoes, onions, tomatoes and a variety of chutneys, and finished with sev.
It is a tasty snack filled with myriad flavours due to the addition of different sauces, chutney and spices. chaat recipes are ideally served as an evening snack or perhaps as party starter/appetiser or even for light dinner.
chaat recipes are very common and a popular snack across india. it is served for different reasons for different occasions. some like it spicy and some like it chatpata with lip-smacking spices in it. one such easy and tasty chaat recipe is the sev puri recipe or also known as sev batata poori recipe.
I always use to make sev poori with just boiled potatoes and other chaat chutney stuffings. but adding a spicy ragda mixture just elevates the taste to the next level. having said that it is not mandatory and you can still make it without it. i have seen many vendor making the chaat without even touching the ragda and hence it is completely optional.
There is a bit of confusion with the usage of puri's for this recipe. some prefer to use papdi or flat puri and some prefer puffed. i personally like the puffed one as it holds the stuffing inside, but it is completely optional. secondly, the use of ragda is very much optional and you can use without any toppings of ragda. lastly, you can experiment it further and add toppings of dahi or yoghurt to make dahi puri recipe out of it. in addition, to this you can also add pomegranate, raisins and other dry fruits for different variations.
Sev Poori Video recipe :
Sev Poori Recipe Card
Visit my other popular and related recipes collection like
How to make Sev Puri with step by step :
RAGDA PREPARATION:
1.In a pressure cooker take 1 cup soaked white peas (vatana), salt and 1 cup water.
2. pressure cook for 5 whistles or until white peas get cooked completely.
3. In a large kadai heat 3 tsp oil and saute 1 onion and 1 tsp ginger garlic paste
4. saute 1 tomato until it turns soft and mushy.
5. Add boiled peas and boiled potato (Mashed) mix well.
6. Boil for 5 minutes or until the spices is absorbed well.
7. Add ¼ tsp turmeric, ½ tsp chilli powder, ½ tsp coriander powder, ¼ tsp cumin powder, ¼ tsp garam masala and ¼ tsp salt.
8. mash the peas and potato slightly, to thicken the consistency.
9. Ragda is ready.
SEV PURI ASSEMBLING:
1.Make a hole in the centre of puri.
2. place small pieces of potato into puri.
3. Spread green chutney and tamarind chutney.
4. Add a tbsp of ragda into each puri.
5. Top with onions and tomato.
6. Top with more ragda ,chopped onion and chopped tomatoes.
7. Garnish with a generous amount of sev and coriander.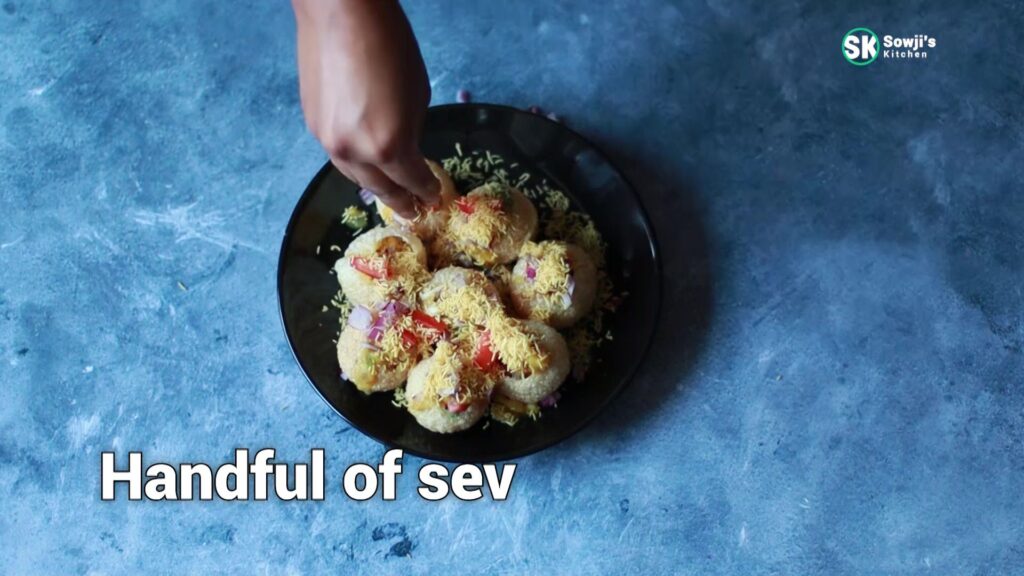 8. Enjoy sev puri immediately