Okra or ladies' finger or bhindi or bendakaya is a much-loved vegetable that is used in Indian cuisine to make Sambar, curry, chutney, stir fry, stew and a lot of other recipes. I think after Paneer, bhindi must be everyone's favorite vegetable especially kids. Okra is 90% water. It's rich in dietary fiber, vitamins like C, K, B1, B9, and is very healthy.
I have shared quite a few bhindi recipes including bhindi masala gravy which is a wet or gravy version of this recipe. A few of my favorites are Bhindi-do-pyaza and Bhindi capsicum masala. This bhindi fry recipe is different from the Bhindi masala and everything is cooked together in one pan. Usually, bhindi fry is made by deep-frying the bhindi to get the extra crispy texture. But to make it healthy we can make it in a non-stick skillet by shallow frying with little oil. This is equally crispy and yummy.
Bhindi fry is a simple preparation made by stir-frying the veggie and then just adding a few spices. Minimal spices and clean flavors are the key factors for this Andhra style recipe that make today's dish an all-time favorite at our home. Bhindi fry is also a good lunch box recipe and tastes good warm or cold. Further, bhindi fry is not just an amazing side dish to roti, it can be served hot steamed rice too, just add a dash of ghee aka clarified butter and you will fall in love with the taste instantly. You can make this recipe with fresh bhindi or even with frozen cut bhindi, but make sure to defrost them outside before using and you are good to go.
Here's one tip to tackle the sliminess that makes many people keeping bhindi away from cooking:
How to Make Bhindi Less Slimy
If you cook bhindi often, you must be aware of this problem, bhindi is slimy!
The vegetable exudes a substance called mucilage that makes it slimy. So how do you make it less slimy?
1. Wash okra thoroughly and pat dry each one before chopping. If you try to cut the okra without pat drying it will be very slimy. I usually wash all the okras and pat dry them. Then put them on a paper towel to dry for some more time so there is no more moisture. If you can plan in advance, it would be good to wash the okra and then let it air dry overnight. That way you wouldn't need to pat dry each bhindi separately and you will be good to use the bhindi in the recipe straight away.
2. Shallow fry the okra in very little oil before adding the spices/masala. This takes around 15 minutes on medium-low flame until the sliminess disappears.
3. Do not cook on high flame else the okra will get burnt quickly, even before the sliminess can go away.
Bhindi Fry | బెండకాయ వేపుడు (Andhra style) | Okra Stir Fry video recipe :
Visit my other popular and related recipes collection like
How to make Bhindi fry with step by step:
Add oil to a pan and let it heat up.
Add peanuts and roast on medium heat until golden and crunchy. Keep them aside.
In the same pan add chopped bhindi and a little salt.
Saute them on medium heat stirring often as needed. Over stirring can make them slimier.
Cook on medium heat with lid closed for 3 mins.
When bhindi shrinks a little remove the lid and fry until no more slimy or sticky.
Fry until bhindi is done.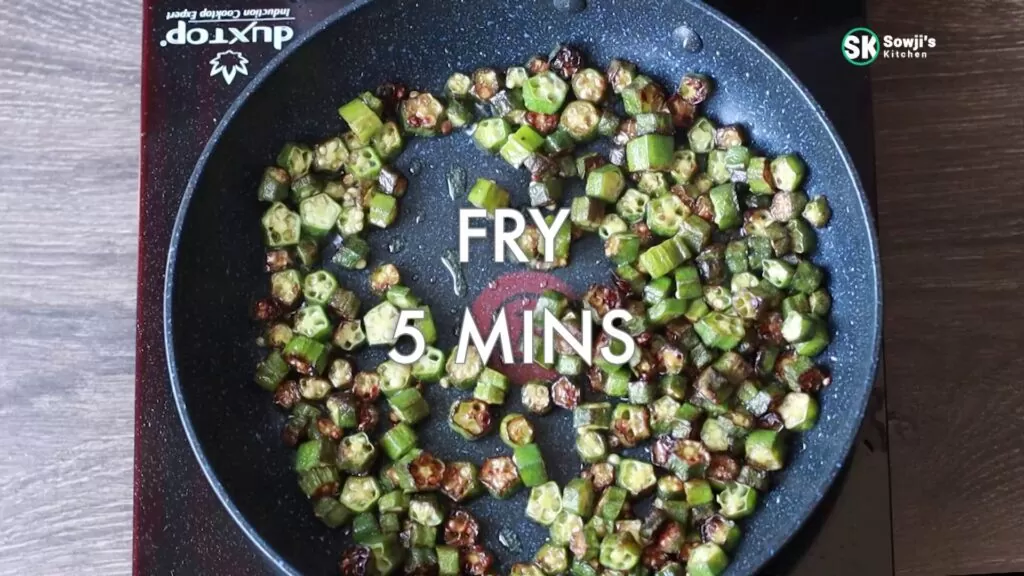 Add crushed garlic, curry leaves, and fry for 5 more mins. (They should be crunchy)
Add the fried Peanuts, Turmeric, chili powder, and coriander powder. Mix well.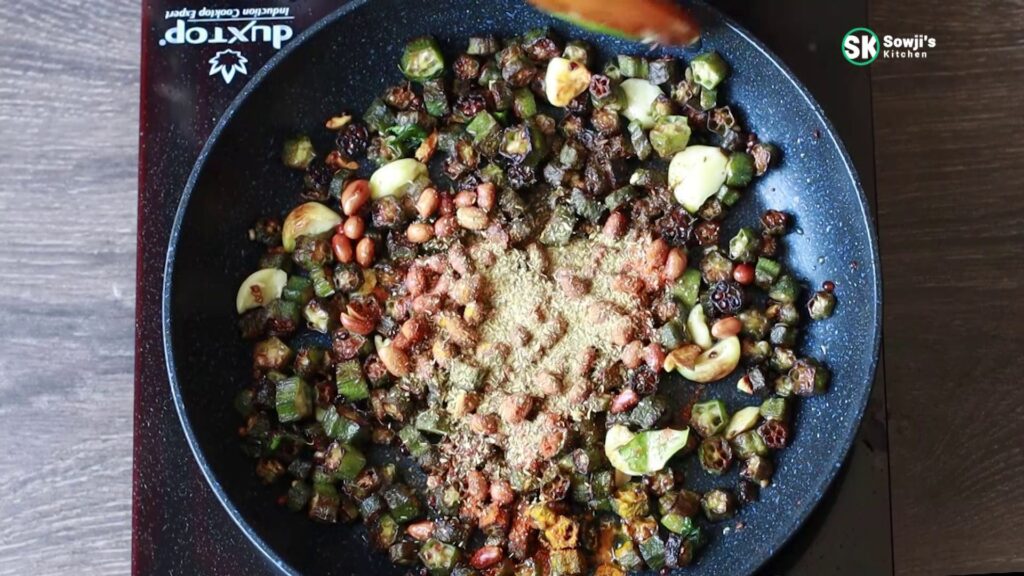 Serve bhindi fry with hot steamed rice or roti as a side.