chai masala powder recipe | masala tea powder with detailed photo and video recipe – Homemade Chai Masala or Tea Masala is an aromatic blend of whole spices which makes Indian tea flavorful. Add this to your Masala Chai to make the perfect fragrant tea.
Similar to the Garam Masala spice blend, every home has their own secret recipe to make chai and chai masala. All include the same ingredients – milk, sugar, tea leaves. Some enjoy Ginger Tea with lots of ginger, some Cardamom Tea with green cardamom pods and some Masala Chai, which has chai masala, a blend of whole spices added to it.
My favorite is Masala Chai. To enjoy a perfect Masala Chai, you definitely need a good Chai Masala Powder recipe. So here I share the detailed recipe to make the best homemade tea masala.
I like to make Chai Masala and store it in an air tight container and add a little to my tea. However it is best to not make too much chai masala at once. Having freshly made chai masala definitely enhances the flavor. I like to just make enough to use it up in a couple of weeks. It is very easy to make and hardly takes any time. This is also the reason I prefer to not buy chai masala from the store.
What is Chai Masala?

Chai ka Masala is a blend of whole spices, fennel seeds and ginger powder which added to Indian tea makes it much more flavorful. It adds a very unique flavor to the tea and also enhances the health benefits with the warming whole spices.
What are ingredients for Chai masala?

Here are the ingredients I usually add to Chai Masala and the benefits they provide:
Cloves (Laung): Cloves have antioxidants and anti-inflammatory properties. They add depth and an earthy tone to the chai.
Green Cardamom (Elaichi): Cardamom has antioxidants and cancer fighting compounds. It adds fragrance and subtle sweetness to chai.
Black Peppercorns (Kali Mirch): Black peppers have anti-inflammatory properties, helps with digestion and nutrient absorption. They add a little spice kick to the chai.
Fennel seeds (Saunf): Fennel helps with healthy digestion and have a calming effect. They add a cooling subtle taste to tea.
Cinnamon (Dalchini): Cinnamon has powerful medicinal properties such as lowering risk of diabetes, regulating blood sugar, and many more. It adds natural sweetness and warmth to tea.
Dried Ginger Powder (Sonth): Ginger helps reduce inflammation and improves digestion and immunity against flu & cold. It adds a subtle spice kick and warmth to chai.
Nutmeg (Jaiphal): Nutmeg has the ability to relieve pain, improve indigestion and blood circulation. It adds a slightly sweet as well as warm flavor to the chai.
Tulsi seeds : It will add more flavor and healthy .
Add 1/4 tsp of masala per cup of masala tea.
Chai masala powder video recipe :
Chai masala powder recipe card:
Visit my other popular and related recipes collection like
Homemade Pumpkin Spice Latte (Starbucks style)
Indian Cappuccino | Beaten Coffee
How to prepare Masala Chai with step by step :
1.In a heavy-bottomed pan take 3 tbsp cardamom, 1 1/2 tbsp cloves, 1 tbsp pepper, 1/2 inch cinnamon, 1/2 nutmeg and 1 tbsp fennel.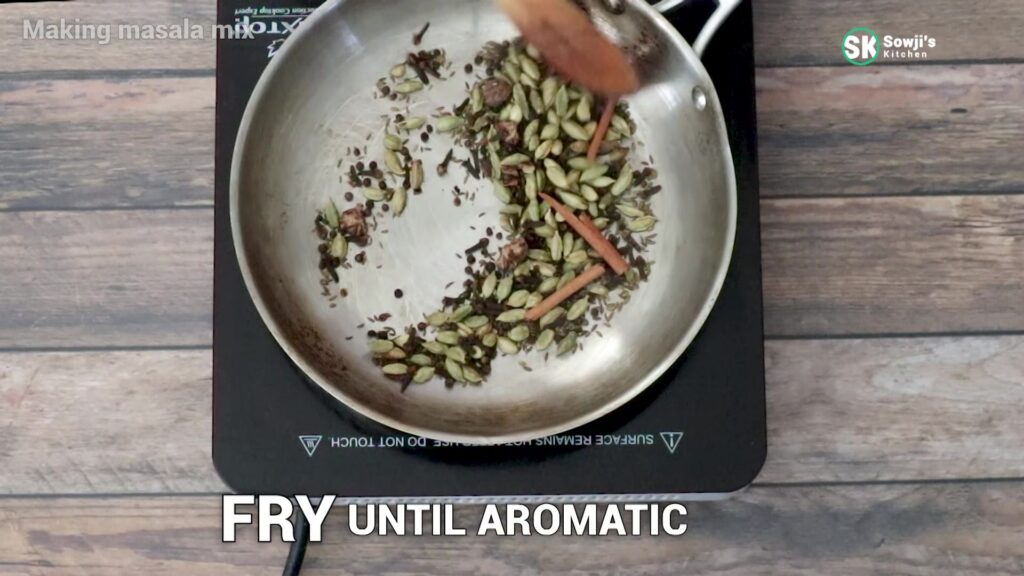 2. Dry roast on low flame until it turns aromatic. keep aside.
3. Add 6 tulsi seeds and roast well.
4. cool completely, and transfer all the spice mix into blender.
5. Blend to a slightly coarse powder.
6. Now mix 3 tbsp dry ginger powder with masala powder.
7. chai masala powder is ready, you can store in an airtight container and use for a month.
PREPARE CHAI USING HOMEMADE CHAI MASALA:
1.In a saucepan take 2 cup water, 4 tsp tea powder and ½ tsp chai masala.
2. Boil for 4 minutes or until strong decoction is prepared.
3. Now add 1 cup milk, 2 tsp sugar and boil the chai twice.
4. strain the masala tea and enjoy.