Cheese garlic buns – Pizza hut style recipe | Garlic bread recipe with detailed photo and video recipe – these garlic cheese buns are delicious, soft and chewy dinner rolls exploding with cheese!
Sharing this 15-minute cheese garlic bun recipe for those folks who want a quick breakfast or brunch. On occasions, you can also make this cheesy garlic bread and serve with any soup for lunch or dinner. These can also be served as a starter snack for the get together or parties.
The pungent smell of garlic transforms into a really tantalising aroma when baked with cheese on bun or bread. No wonder cheese garlic bun is such a popular accompaniment world over.
The recipe is made in an oven. but you can also make it on a tawa/skillet. Use a thick bottomed tawa.
Use any bread and cheese of your choice. I have used burger bread and a mozzarella cheese. Again add the herbs or spices of your choice. Serve cheesy garlic bread with tomato ketchup or chili sauce.
The recipe is made in an oven. but you can also make it on a tawa/skillet. Use a thick bottomed tawa.
Visit my other popular and related recipes collection like
How to make Cheese garlic buns with step by step :
1.Preheat oven for 200 degrees celsius/400 degrees fahrenheit before starting.
2. Slice each bun horizontally into 2 halves and keep aside. This recipe can be made using any bread buns.
3. Take 2 tbsp softened butter (butter at room temperature) in a bowl. If using unsalted butter, then add a bit of salt.
4. Grate or mince 3 to 4 medium garlic directly into the butter. Instead of garlic, you can also add garlic chives.
5. Add chilli flakes ,mix the grated garlic very well with the butter.
6. Grate 1/2 cup cheddar or mozzarella cheese.
making cheese garlic bread
1.Now spread the garlic butter evenly on all the slices.
2. Top with the cheese generously.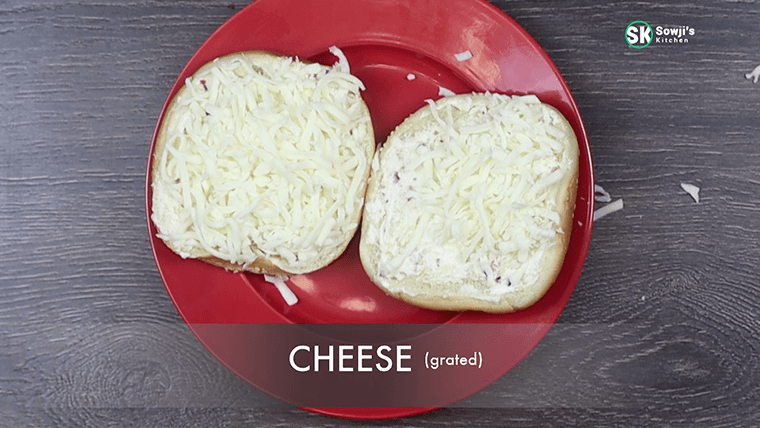 3. Sprinkle with your favorite herb or spice.
4. Place the bread slices in a baking tray.
baking garlic cheese bread
1.Now keep the baking tray on the top most rack of your oven .
2. Bake at 200 degrees celsius/400 degrees fahrenheit for 5 to 6 minutes till the edges become a light golden and a bit crisp.
3. The cheese will also melt. You don't need to toast these slices.
4. Serve these cheesy garlic bread hot with tomato ketchup as a starter or as as a snack.