The corn samosa is one of those dishes that make a perfect tea time snack for the monsoons. Samosa, an all-time favorite tea-time snack among Indian households, is a mouthwatering stuffed deep fried pocket. Samosa has always been the perfect evening snack or starter for any get together for ladies to munch and gossip over ?. I have made this recipe in 2 ways – oven baked & deep fried.
Samosas are filled using a variety of stuffing's which are quite spicy in nature. Potato, lentil, onion, peas etc. are common stuffing's for the samosas. Sweet Corn Samosa has a slight sweet but spicy taste. The sweetness of the corn when combined with the strong flavored spices form a very tasteful dish. The Sweet Corn Samosa can be baked as well as deep fried, depending on your diet, taste preference or calorie watch. Samosas are mostly served with a green mint chutney and sweet tamarind chutney aka Imli chutney.

What is Samosa
Samosa (samoosa) is a small triangular crispy deep fried pastry pocket. The pastry is filled with a curried filling (potato, corn, cheese, vegetables) spiced with Indian spices and then deep fried until golden & crispy.
How to fold samosa
Using samosa pastry sheets (you can also use phyllo pastry or spring roll pastry if you can't find samosa pastry at your local Indian or Asian market), place one lengthwise on a chopping board. (Cover the rest with a damp towel to prevent them from drying out.) Fold the bottom left corner up into a triangular shape, then continue to fold into a triangle. In that triangle pocket fill with the filling mixture of your choice.
We can also make samosa with home made dough. Mix all purpose flour/wheat flour and salt. Add little water and mix dough into soft dough. Roll medium sized chapati of dough and cut into two half from center to get a two half moon shaped. Roll into triangle shape and fill the mixture.
Mix together a few tablespoons of flour with water to make a paste. Spread a little of the flour paste along the edges of the samosa to seal and set aside . Heat vegetable or canola oil in a pot over high heat and once hot, deep fry the samosas until golden brown and crispy. Remove from the oil with a slotted spoon and allow to drain on paper towels before serving with chutney or dipping sauce of your choice.
Baked samosa
We can bake samosa in oven for a healthier version. But fried samosas taste the best. I have tried baking these after brushing them generously with milk at 200 C in a preheated oven for 15- 20 mins. The results were fine, but if you are a hard core samosa lover like me, you will easily feel the difference in taste.
These are best tea time snacks for evening snacks, some of best evening snacks like Punugulu, Veg puffs , Tawa pizza
Corn Samosa detailed video recipe
Recipe Card
Visit my other popular and related recipes collection like
How to make Corn samosa with step by step photo
Making Filling
Heat 1 tbsp butter in a frying pan.
Once butter is melted add onion, sauté until soft and translucent.
Add the corn kernels and allow to cook until the corn starts to color. Season to taste.
Add chili powder, chat masala, cumin powder, coriander powder and mix well.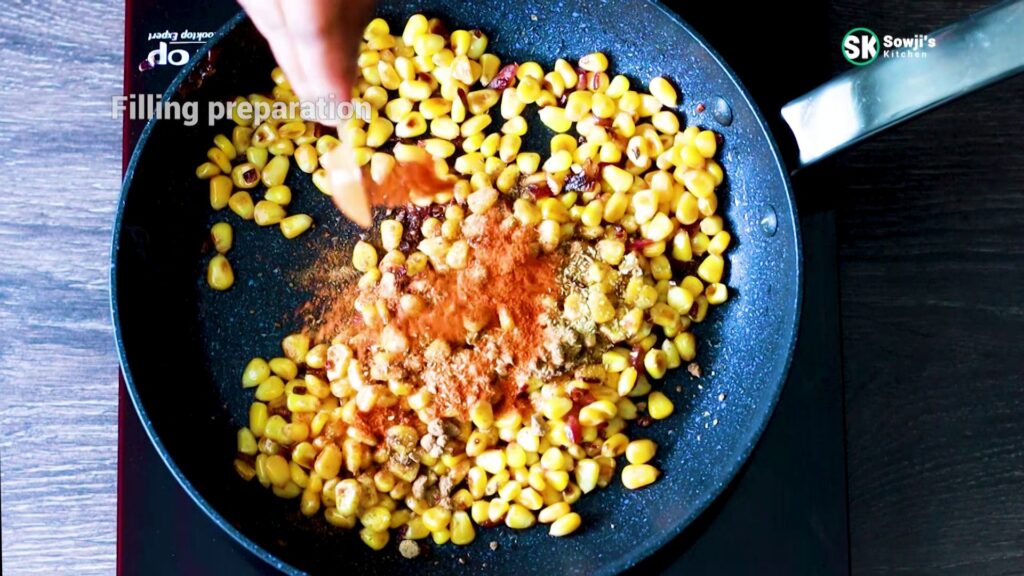 Transfer the corn mixture to a large bowl and allow to cool to room temperature.
Cornflour paste
Take 3 tbsp corn flour in a bowl and mix with 1-2 tbsp water to make a paste.
Assemble the samosa
Place a pastry sheet (samosa wrapper or spring roll sheet) lengthwise in front of you on a chopping board.
Fold the bottom left corner up into a triangular shape, then continue to fold into a triangle. Fill the pocket with prepared mixture generously (do not over fill).
Seal the samosa edges with the wet paste. Set aside and continue with the remaining.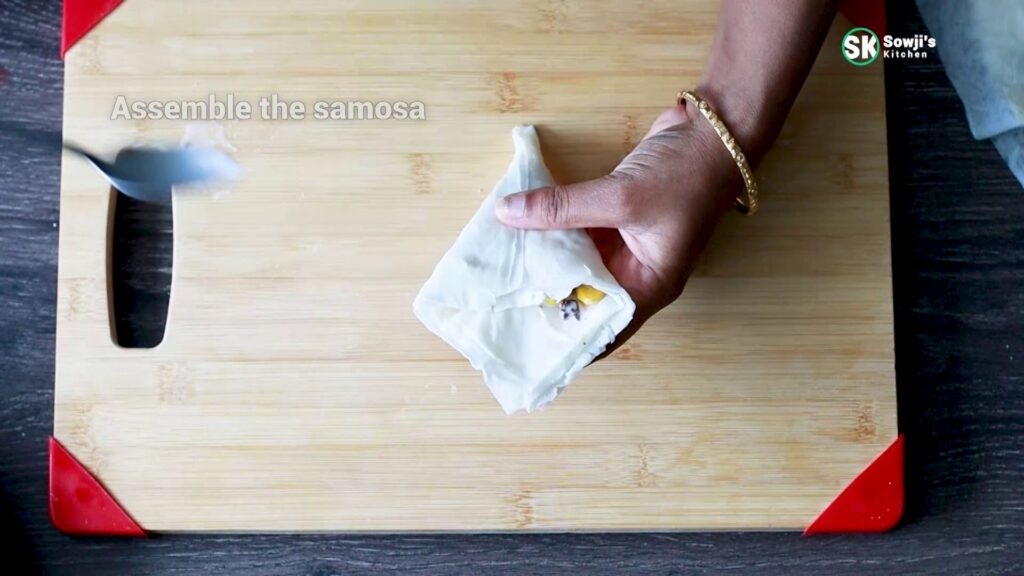 Method 1:
Pre heat vegetable or canola oil until hot in a deep pot then fry the samosas until golden brown and crisp on medium heat.
Remove with a slotted spoon and allow to drain on paper towels before serving with chutneys.
Method 2 :
Place all the prepared samosas on a baking sheet. Coat with milk on top.
Bake at 400 F or 200 C for 20 minutes (flip over in between) or till nice golden brown.
Serve the samosas made with pastry sheets with chutney of your choice.