Sponge Cake Without Oven | m&m Vanilla cake in katori with detailed photo and video recipe – This sponge Cake without oven is amazing because of the taste, textures, and amazing flavor. It is not only a beautiful cake that does not require an oven or a pressure cooker.

This sponge Cake without oven was also super-duper easy to prepare and I loved experimenting with the whole no-bake concept! Plus, I feel, in the hustle-bustle of today, everyone is extremely busy and engaged to invest to proper baking processes. As the world is developing, more and more ways are coming up to save time.
For kids always favorite M&M gems, so for colorful and attractive in cake i have added m&m gems in cake batter. Whether you have a reason to celebrate or not, this soft and chewy M&M CAKE is the perfect dessert to enjoy with friends and family.
Key Ingredients in Cake batter
1. Baking powder : While baking powder makes it raise during baking, giving it a light and fluffy texture.
2. Flour : Normally in basic cakes, every one will use maida / all purpose flour, for healthy option we can also use whole wheat flour.
3. Eggs : I use 4 whole eggs in my cake recipes. This cake can be transformed into a Moist White Cake by using egg . (For eggless we can use Yogurt/curd in place of eggs. I have made eggless cakes also in my blog.)
4. Oil or Butter : I used canola oil, as it is what I had on hand, but you can also use vegetable oil, sunflower oil, etc. For the best tasting vanilla cake, stick to canola oil or vegetable oil. We can also use butter, while using butter make sure it should be at room temperature or melted butter.
5. Granulated sugar or Powdered Sugar : In this recipe i have used powdered sugar to fasten the process, we can use granulated sugar or brown sugar or castor sugar. While using granulated sugar, beat eggs and sugar well. Make sure sugar is completely dissolve in eggs. Or if using butter, beat butter and sugar well and dissolve sugar completely.
NOTES You may reduce the sugar to 3/4 cup if you prefer a less sweet cake.
6. Vanilla extract : Try to use a good quality vanilla extract, as opposed to a cheaper type, or imitation vanilla. In the second, add the vanilla extract, and in the final one.
Preparing Cake in Frypan

This no-oven process basically requires one to not provide direct heat of the stove fire to the cake because that will burn it. This No-oven Vanilla Cake recipe needs you to use the process of indirect and slow heating that actually bake a beautiful and spongey vanilla cake.
Katori Cake
Cake in Katori bowls (Steel small bowls) in a large fry pan or kadai, and place a wire stand or a ring cutter or anything that will elevate the height.
Tips to get best katori cake in frying pan
Preheat the fry pan for 5 – 10 mins on medium heat.
Divide the cake batter evenly between the greased katori bowls.
The deal with over mixing


In this recipe of the No-oven Vanilla Cake, you need to incorporate ingredients together only until mixed. If you whisk and mix too much after adding the flours, you will actually beat the air out of the batter. This will render your cake a very damp and dense look and taste.
How to Grease a katori bowls
Prepping a katori bowls is one of the simplest, ensure your cake won't stick to the pan.
Learn how to grease and flour a pan so you can get results . Grease bowls with oil or butter and use flour to dust the pan for this cake recipe and remove excess flour. In place of flour we can also use parchment paper or butter paper to avoid sticking cake at bottom of bowl. or grease the cupcake liner (katori bowls) with melted butter.
Check out some of the eggless bakes from my blog to kill your curiosity over the eggless mania. Eggless bakes like Eggless oats bread , Eggless banana muffins, Eggless ragi bread, mini chocolate cake.
Sponge Cake Without Oven Video recipe :
Recipe Card :
Visit my other popular and related recipes collection like
How to make Sponge cake without Oven with step by step :
1.In a large mixing bowl, sieve flour, baking powder, baking soda, powdered sugar and salt. Set aside.
2. In a mixing bowl, break the eggs to a small bowl and beat well.
3. Then add oil and vanilla extract, beat for 1 more mins.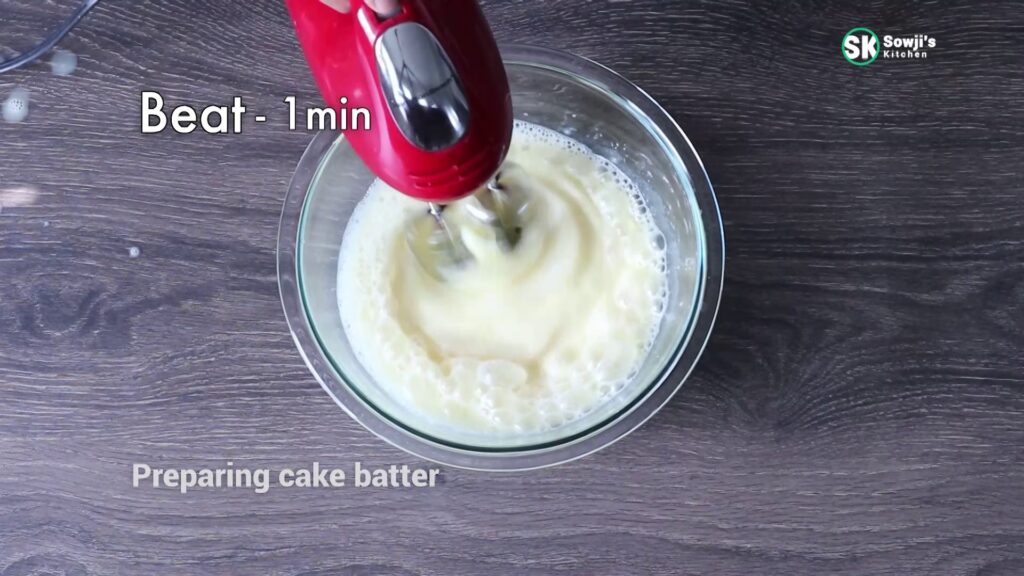 4. Gently fold in the flour and mix until everything is well combined there are no large flour pockets in the batter. Do not over mix at this stage. Cake batter is ready.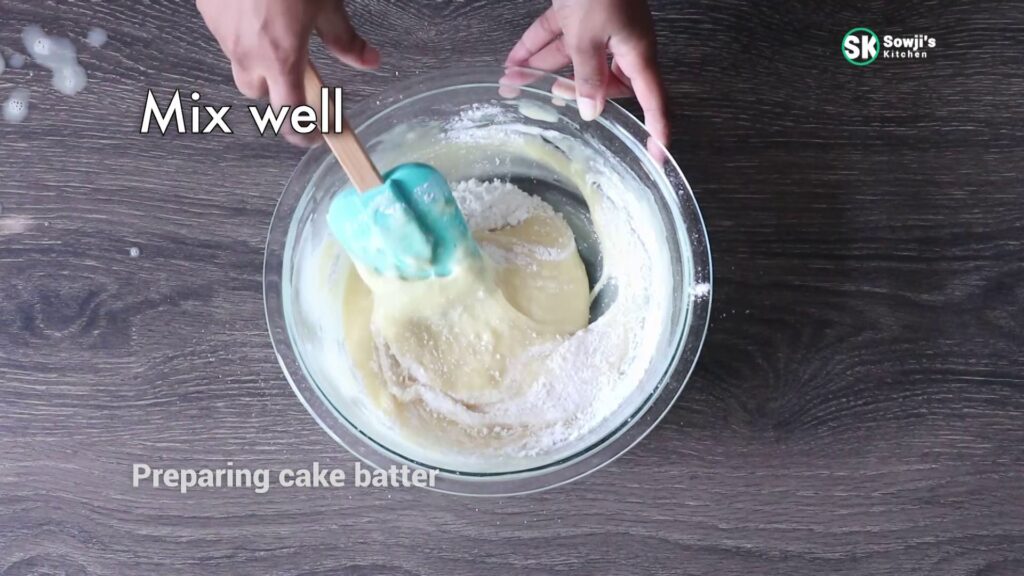 5. Grease the small round katoris(steel bowls) with oil and dust with some flour. or you may also line it with a parchment paper for easy handling.
6. Transfer the cake batter into that greased bowls . Gently tap to remove the air bubbles.
7. Top with M&Ms.
8. Preheat the kadai for 5 mins in medium flame. Place a stand
9. Place the prepared bowls and cover it with lid.
10. Cook for 30 min on low flame.
11. Test the cake by inserting a toothpick or knife.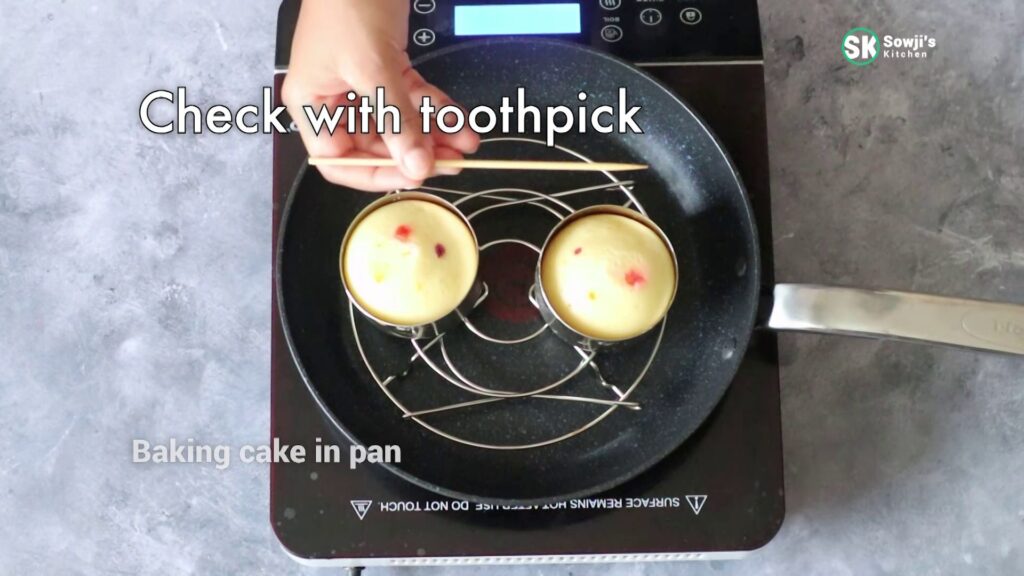 12. Remove the cake and allow the cake to cool down completely.
13. Once cooled using a knife clear the edges and transfer the cake on a serving plate.
14. Cut into half ,super soft and moist cake perfectly fluffed up in the baked cake .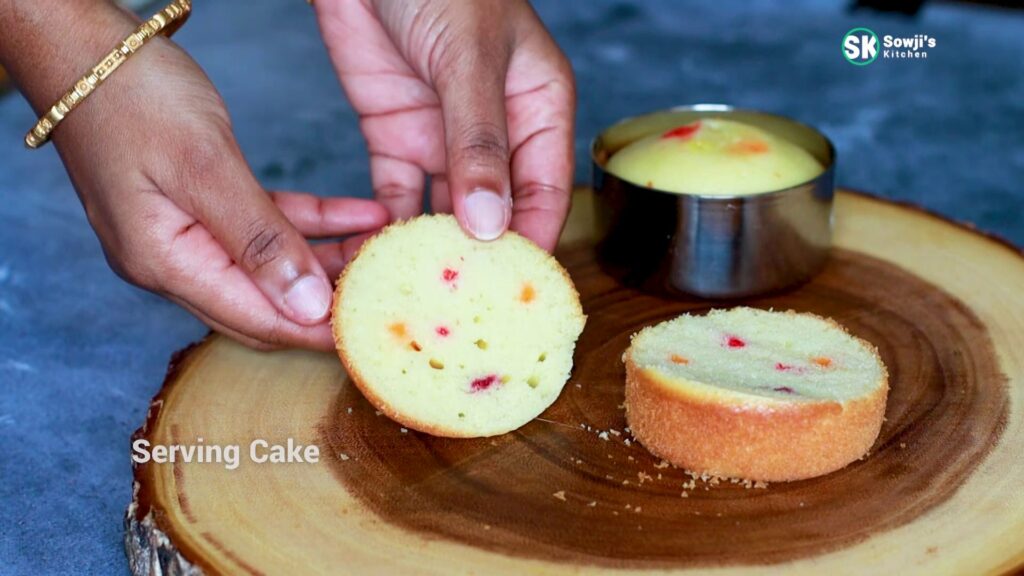 15. It is a perfect cake to accompany a cup of Tea or Coffee.