Fruit cake with palm jaggery |christmas cake recipe with detailed photo and video recipe – Moist, soft , light and delicious eggless fruit cake. This simple recipe is one of the most quick and easiest that anyone cake make with great success. Most Fruit cake recipes call for soaking the dried fruits in alchol for several days to week. But the recipe shared here is an instant one which doesn't require you to soak them in advance.
Basically a eggless fruit cake, alcohol free and eggless plum cake recipe for christmas. also popularly known as kerala christmas fruit cake recipe is prepared especially during christmas celebration by christian community.
There are several traditional cakes for christmas, however this is the basic fruit cake which is typically prepared during christmas. some even do have specific christmas cake decorations for these plum cakes but i have kept it simple without any decorations.
To make this eggless fruit cake, you can use any of your favorite dried fruits like raisins, dried dated, figs, apricots, berries and tutti frutti.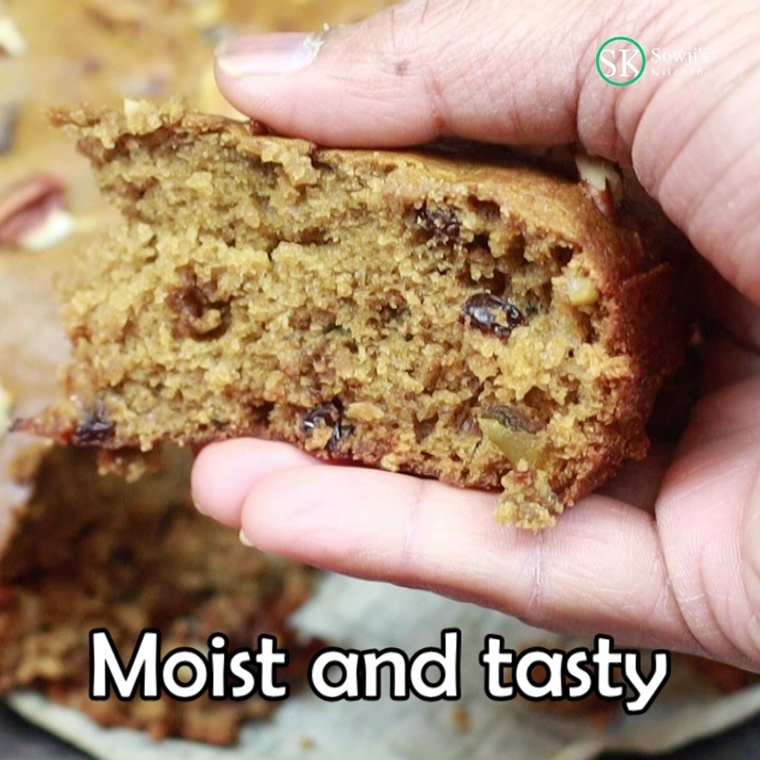 Tips
Flour : This cake can be made using all purpose flour/maida or whole wheat. Using wheat flour would make the cake slightly dense but still tastes very good. In this recipe i have used whole wheat for healthier option. It tastes so good and moist. However if using wheat flour, sieve it well. This makes the cake lighter.
Fats: I have used oil in this recipe, but it also works well with melted butter too. There was no flavor of oil in the cake.
Sweetner : I have used palm jaggery in this recipe. It tastes so good. We can also used normal sugar or jagger. If you don't have palm jaggery.
Visit my other popular and related recipes collection like
How to make Fruit cake with palm jaggery with step by step :
Preparation for Fruit cake
1.Chop all the dry fruits into smaller pieces. Keep the nuts separately.
2. Add 3/4 cup water to sauce pan and boil for a min.
3. Add palm jaggery to boiling water and stir until jaggery melts completely.
4. Add raisins, cranberries, tutti frutti, blueberries to a large mixing bowl.
5. Pour the hot jaggery water over the dry fruits. Leave them aside to cool.
6. When the mixture cools down, preheat the oven to 350 F/ 170 C for atleast 15 mins.
Making Fruit cake
1.Add oil, fruit juice, vinegar to the fruit mixture. Stir everthing well.
2. In another mixing bowl, seive together flour and soda.
3. Mix up the flour well once more .
4. Pour it to the flour all at once. Make sure the fruit mixture has cooled down before adding it to flour.
5. Mix gently with a spatula until you see no streaks of flour.
6. Add chopped nuts. Gently give it a good stir. Do not over mix.
7. Grease the cake pan with oil or butter.
8. Pour this to a 8 inch cake pan. Knock the pan twice to the kitchen counter. Don't over do this as the nuts will settle at the bottom.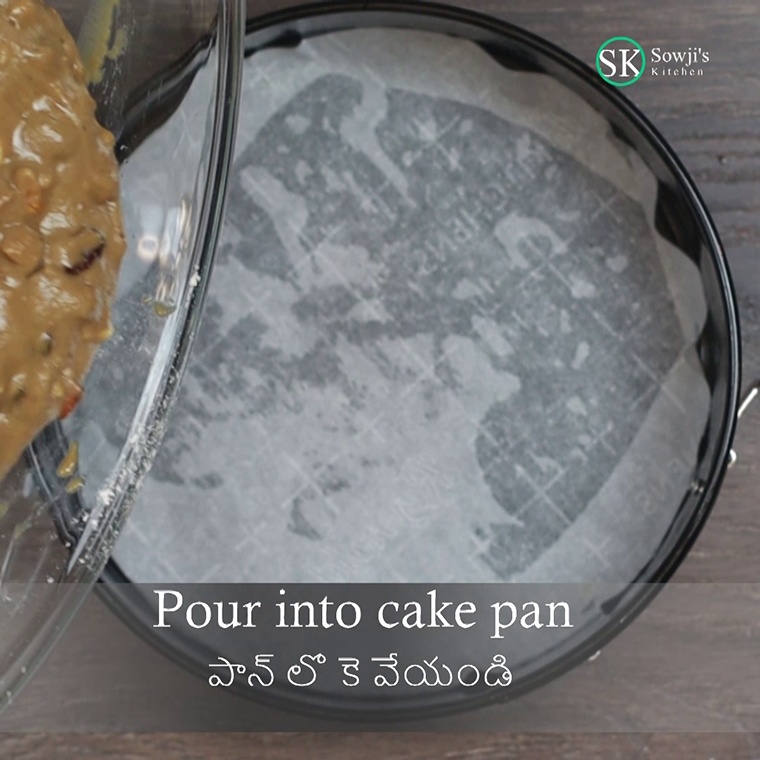 9. Keep it in the oven and bake at 350 F for 35 to 40 mins. If using a 8 inch pan it takes about 40 mins. If using a 9 inch pan it will be done around 30 mins.
10. When the cake is done, a skewer inserted comes out clean.
11. Cool the cake in the pan for 10 mins.
12. Remove from pan , cool it completely before slicing .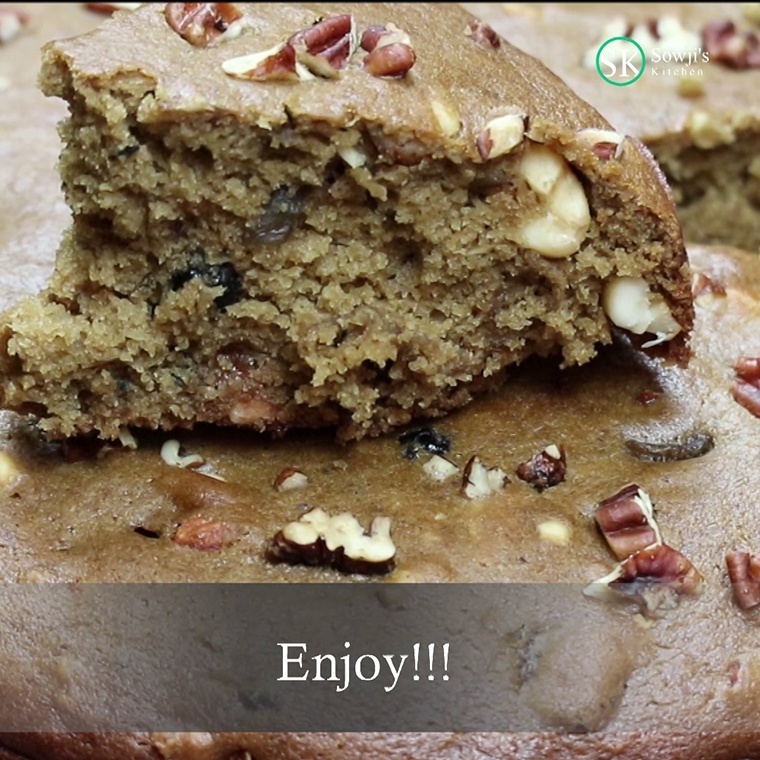 13. Enjoy the fruit cake.