Gummadikaya pulusu is a delicious spicy, tangy & slightly sweet stew made with pumpkin. Gummadikaya is the telugu name for pumpkin. Gummadikaya pulusu is a telugu term that refers to a simple spicy, sweet & sour stew. It is a traditional dish from Andhra cuisine It is usually eaten with rice, ghee & fryums (vadiyalu) and mudda pappu.
Gummadikaya pulusu is a basic and simple dish that is just made with pantry groceries. Some folks use rice flour, methi powder or coriander powder to make the pulusu slightly thick. I have shared the method I follow to make gummadikaya pulusu. You can tweak the recipe to suit your taste. In my recipe i have used sesame seeds spice powder which is healthy . For pulusu recipes, i love to add this spice powder at last.
I have just used a single vegetable drumstick, it goes very well in this pulusu.
Pumpkin is often used in indian cuisine to make curry, stir fry, halwa.
Andhra style Pumpkin pulusu:
Cut pumpkin into small pieces. Take a deep pan, add seasoning and fry for a min. Add sliced onions and slit green chilies , saute on medium heat. Add pumpkin pieces and drumstick pieces. Add water and salt. Mix well. Cook for 10 -15 on low heat or until pumkin is cooked perfectly. After that add tamarind pulp, jaggery and spices. Cook on low heat for 5 – 10 min. Add sesame seeds powder and coriander powder . Cook for 5 more mins.
When the pumpkin stew is cooked on low flame, the sweetness of jaggery along with the sourness of the tamarind juice it will enhance the taste more.
Note : Red chili powder we can increase or decrease as per our taste.
Gummadikaya Pulusu | Pumpkin Curry with Video recipe :
Recipe Card :
Visit my other popular and related recipes collection like
How to make Pumpkin curry with step by step :
1.Wash and cut the pumpkin into small pieces.
2. Heat 2 tbsp oil in a pan, add chana dal, urad dal, fenugreek seeds, mustard seeds and cumin seeds. Keep stirring. When the mustard seeds are popping up add red chili, hing and curry leaves.
3. Fry the seasoning until golden.
4. Add finely chopped onion, green chilies and salt.
5. Saute onions until golden, add pumpkin, turmeric powder, drumsticks and salt .
6. Add water to the level of the pumpkin pieces. cook on medium flame.
7. While the pumpkin is cooking, prepare tamarind water .
8. Once pumpkin is cooked completely add tamarind water, jaggery, red chili powder and sesame seeds spice powder. Mix well.
9. Cook for 5 -10 mins on low flame to desired consistency. (If you need more liquid, add more water).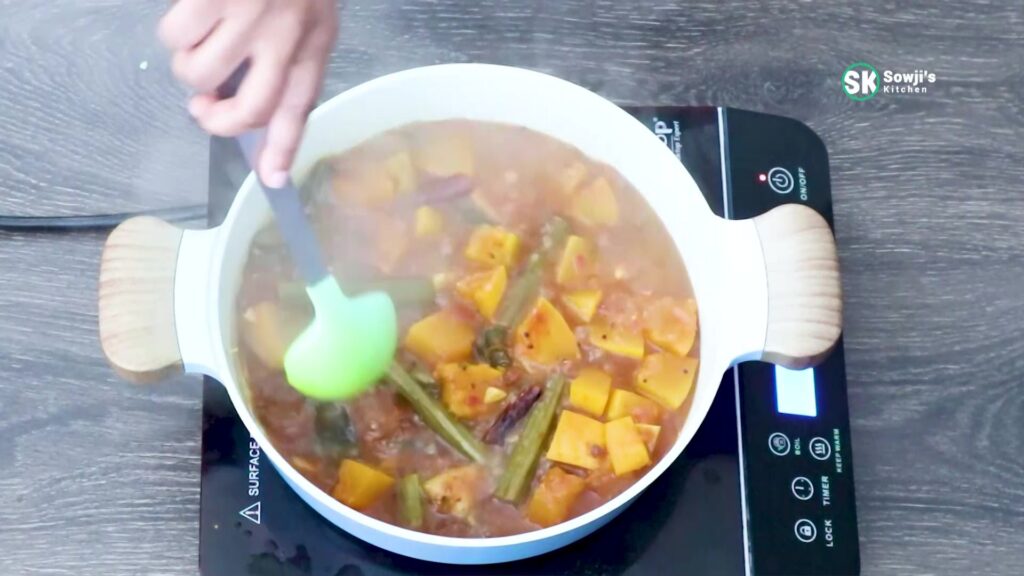 10. Garnish with coriander leaves.
11. Serve with hot steamed rice.