Mung Bean Dhokla | Green Moong Dhokla with detailed photo and video recipe – It is easily be called a superfood for the common man with its wealth of vitamins and minerals abundant in the humble legume.For the vegetarians it provides a great source of protein and fiber.
Green Moong or Mung Beans a fluffy and delicious steamed savory cake from the state of Gujarat in India, often enjoyed as a breakfast/tea-time snack with chai/coffee!. Its low in fat and cholesterol and easily digestible.
If you are bored with dal and khichdi, two of the most popular ways of eating Green Moong, then why not try this dhokla recipe. Its healthy, nutritious and because its steamed, hardly contains any fat!
WHAT IS DHOKLA?
This culinary healthy delight from Gujarat is traditionally a steamed, fluffy and spongy savory cake (sometimes slightly sweet) made with fermented batter of rice and chickpeas. But with everyone on the quick-fix-dishes bandwagon, it has taken on a new avatar where we use only chickpea flour to make the batter.
To give it a good rise, baking soda is often used or the ever popular fruit salt – Eno's! This salt (which is available online or in Indian stores), when added to the batter, gives it an aerated texture which is essential for a soft and spongy dhokla!
But my all-time favorite is mung !! Being a plant protein which is a good source of fiber, vitamins, antioxidants and of course low in calories with a moderate amount of protein, this has always been my go-to legume.
KEY STEPS TO A GOOD, FLUFFY AND SPONGY DHOKLA:
Make sure the pan in which you are going to steam is well oiled.
Add the soda or fruit salt just before you steam; before mixing the batter, keep the steamer on the stove to allow the water to boil and start to steam.
As soon as the rising agent is added, immediately pour into the pan and steam.
Let cool slightly before removing from pan and cut with a sharp, serrated knife.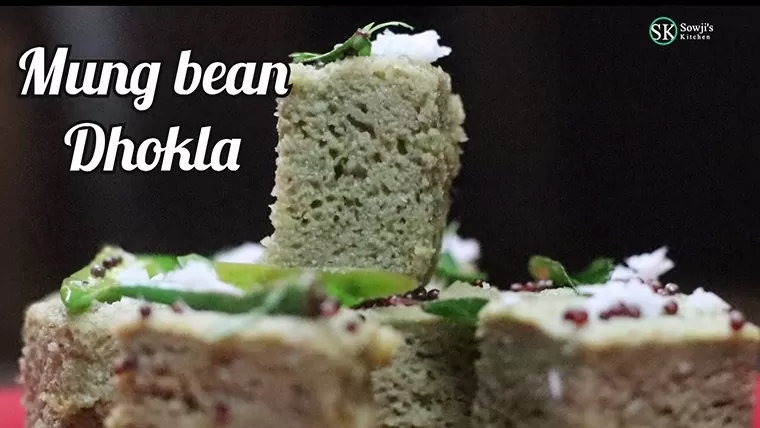 SERVING SUGGESTIONS:
I loved this healthy, flavorful mung bean sprouts dhokla without any dip or chutney but if you like you can serve it alongside your favorite chutney like coriander chutney, tamarind chutney etc.
For added texture and flavor, garnish with a shower of freshly chopped cilantro and freshly grated coconut!
I am sure your family will love this version of healthy dhokla as did mine!
Visit my other popular and related recipes collection like
How to make Mung bean / Moong dal Dhokla with step by step :
1.Soak moong dal for 8 hrs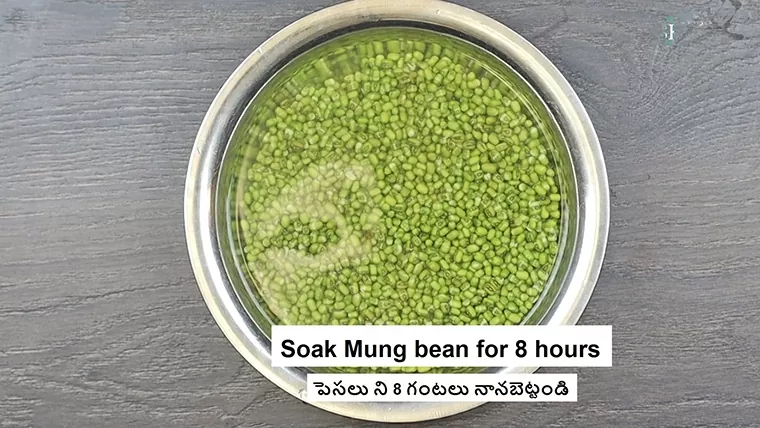 2. Drain the Moong, Rinse in fresh water.
3. Transfer moong dal into blender
4. Add ginger, cumin seeds and salt in to blender . Blend till smooth.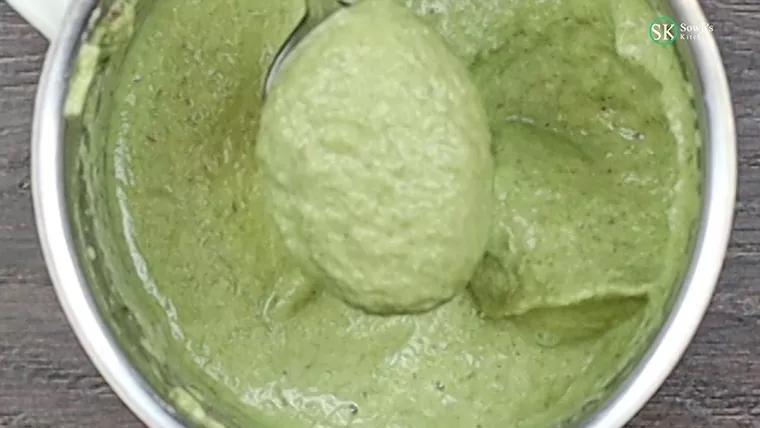 5. Grease a 9 inch cake pan with oil.
6. Keep water in a pan for steaming
7. When water in the pan is boiling and ready, mix Eno to the Moong dal mixture
8. And IMMEDIATELY put in pan to steam for 20 minutes
9. Take out of steaming pan and let it cool completely.
For Seasoning
10. Heat Oil. Add 1tbsp Mustard seeds , let them splutter.
11. Add chopped Green chilies, hing and Curry Leaves.
12. Stir and add Sugar, lemon juice and Water.
13. Cut Dhokla and pour seasoning on top.
14. Garnish with grated Coconut and chopped Cilantro.