Veg Cutlet Pops Recipe | Christmas Vegetable cutlets with detailed photo and video recipe – As Christmas is around the corner, I have prepared a recipe keeping in mind the Christmas special theme. My kid love absolutely love this festival. Every year during Christmas, I try to prepare something absolutely new and delicious that would make my kid jump in joy.
This time I have decided to prepare the vegetable cutlet. It is an exciting one (especially the decoration part) and you will certainly love this. These cutlets have been made using some basic ingredients. The decoration of this cutlet is ideal for a Christmas celebration and anyone would instantly fall in love with these cute pops.
It is a delicious snack made with mix boiled vegetables. A vegan recipe.
These crispy and tasty vegan patties can be made as an evening snack and best to serve them hot with tomato ketchup and green chutney. They are a good tea time snack and can also be made during monsoons.
I make these veg cutlet often . most of the times I have carrots, potatoes, peas and french beans in the fridge. So its easy for me to make these cutlet.
Veg Cutlet Pops Recipe is a popular deep fried snack or patties made from a choice of boiled and mushy vegetables. it is a sought-after snack recipe particularly with the vegetarian or vegan diet followers and is mainly served during the evening with a cup of tea
Veg Cutlet Pops Recipe we can use a choice of vegetables like beans, carrot, peas, potatoes, thus making it a healthy, nutritional snack recipe. moreover, veg cutlet recipe is an ideal recipe for those stubborn kids who hesitate or do not prefer to have vegetables in their meal. The colour and texture of this veg cutlet make it appealing and irresistible for kids. I generally prepare vegetable cutlet with either semolina / rava or breadcrumbs which gives you a whitish or brown cutlet recipe.
Tips:
If there is too much moisture in the vegetable mixture, then the cutlet will break in oil. make sure to add breadcrumbs as required.
Add vegetables of your choice to make veggie cutlet more nutritious and healthy.
Veg cutlet recipe tastes great when prepared with a variety of vegetables and crispy.
Cutlets are always ideal for an evening snack as they satiate the palate of all food lovers and go really well with a cup of Masala Tea or Filter Coffee.
This lip-smacking snack tops the charts of all Indian restaurants and street vendors and is the most popular snack or appetizer that is served with evening tea.
Veg cutlet are popular Indian snacks which are made by combining different vegetables, potatoes, paneer, and everyday spice powders. They are then shaped into round or cylinders and dipped into an All-Purpose Flour slurry, and then deep-fried.
These are popularly served as a snack for your tea time munchies or can also be served as an appetizer for your get-togethers, house parties, or even game/movie nights.
These Veg Cutlet are,
Versatile
Delicious
Crispy
Made from scratch
Perfect for tea time snacks
These easy vegetarian patties are great for a snack or as an appetizer. Serve with ketchup or Indian style mint chutney on the side.
Vegetable cutlet pops with detailed video recipe :
Vegetable Cutlet pops recipe card:
Visit my other popular and related recipes collection like.
How to make Veg cutlet pop with step by step :
1.First, boil the veggies for that take pressure cooker or instant pot and put chopped potato, carrot, French beans and, green peas.
2. Add 1/2 cup of water and salt, cover the lid of the pressure cooker . For Instant pot cook for 4 mins . For pressure cooker, cook on a medium flame for 2-3 whistles or till veggies get soft. Do not overcook the veggies otherwise, it will become soggy so make sure veggies should be soft and firm.
3. Once all the pressure gets released open the lid and if you find water then drain excess moisture and do not discard this water use it to make curry and vegetables. It's important to drain excess water otherwise veggies will not bind well.
4. Put the boiled veggies in another bowl .
5. Now add all the spices garam masala, red chilly powder, chaat masala, coriander leaves, and salt and. Mashed with potato masher very well. Mix all the spices until well combined.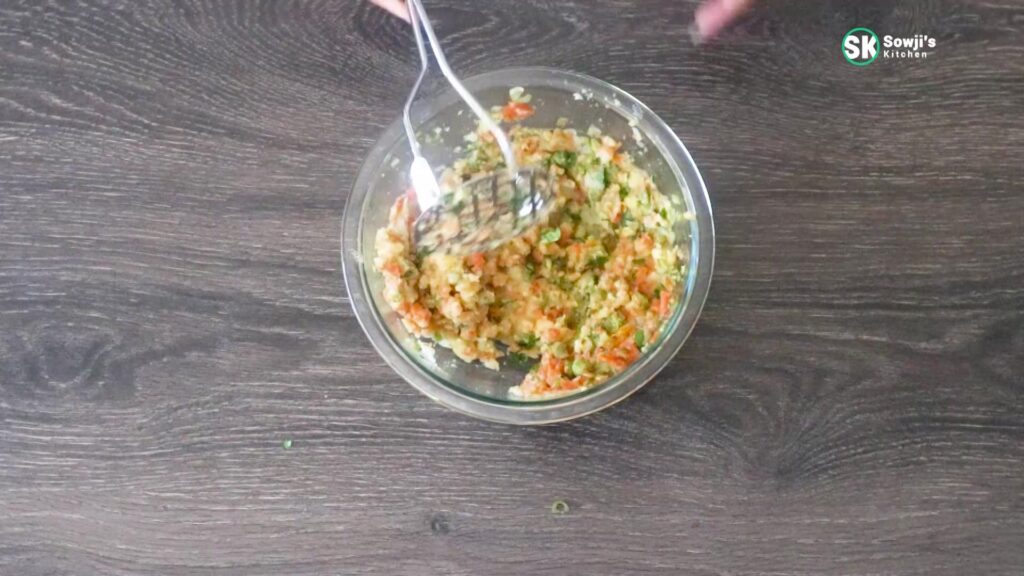 6. Add bread crumbs as required to make a non-sticky dough. Mix it well.
7. The vegetable mixture is ready.
8. Put the cornflour, all-purpose flour, salt, italian seasoning in a bowl and make a thin paste by adding water. Make sure there should not be any lumps in the slurry.
9. Today I am going to make Christmas theme cutlets so take a small portion of the mixture and give it the shape of a triangle. Patties should be slightly thick.
10. To make the stem of the tree insert an icecream stick and press it gently so that it gets stick tightly.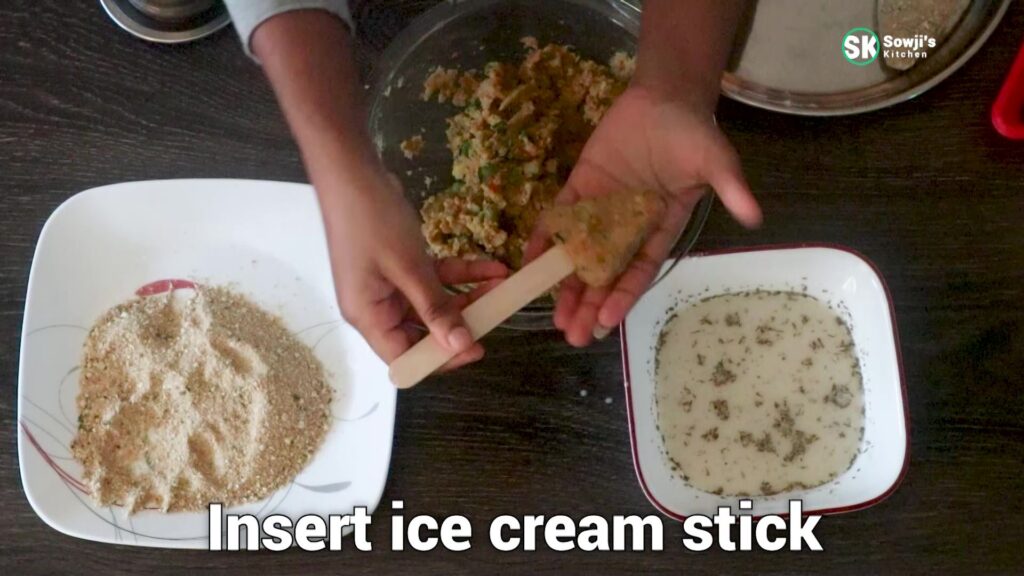 11. Repeat the same process to make the rest of the vegetable cutlets.
12. Now dip each vegetable cutlet one by one in flour slurry and then coat it with bread crumbs all around.
13. Once all the cutlets get coated keep them in the fridge for half an hour to get firm before frying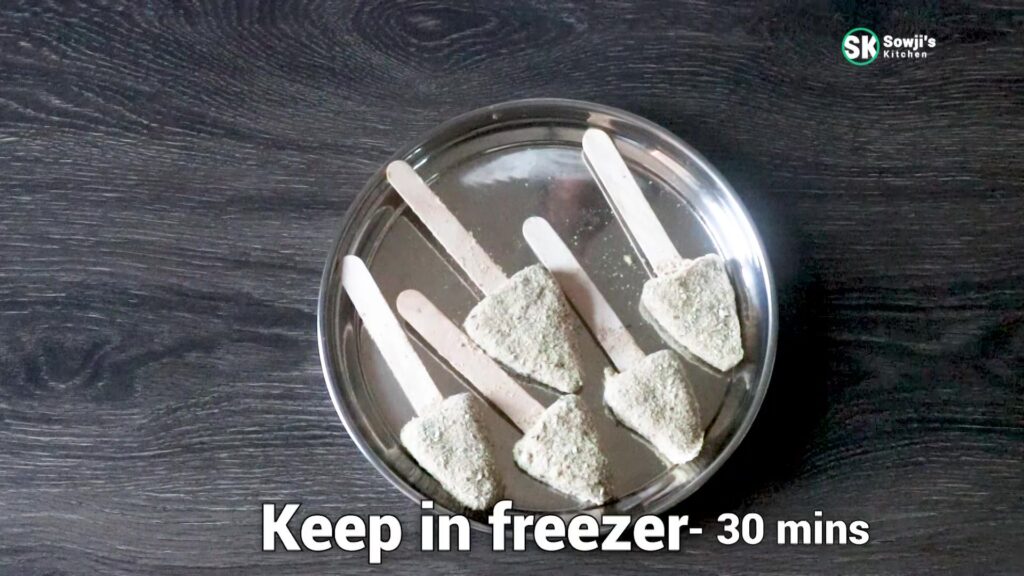 14. After half an hour Heat the oil in a pan and when it gets heated drop one by one vegetable cutlet into the hot oil. I have fried two cutlets at a time as my pan was not big enough so do not overcrowd the pan.
15. Once cutlets get golden brown and crisp, take them out on an absorbent paper to remove excess oil.
To make the Christmas theme:
1.Fill green chutney in a piping bag and cover the top part of the vegetable cutlet with chutney.
2. Now fill mayonnaise in a piping bag and make zig zag on top of the spread chutney.
3. Garnish with some chopped red bell pepper.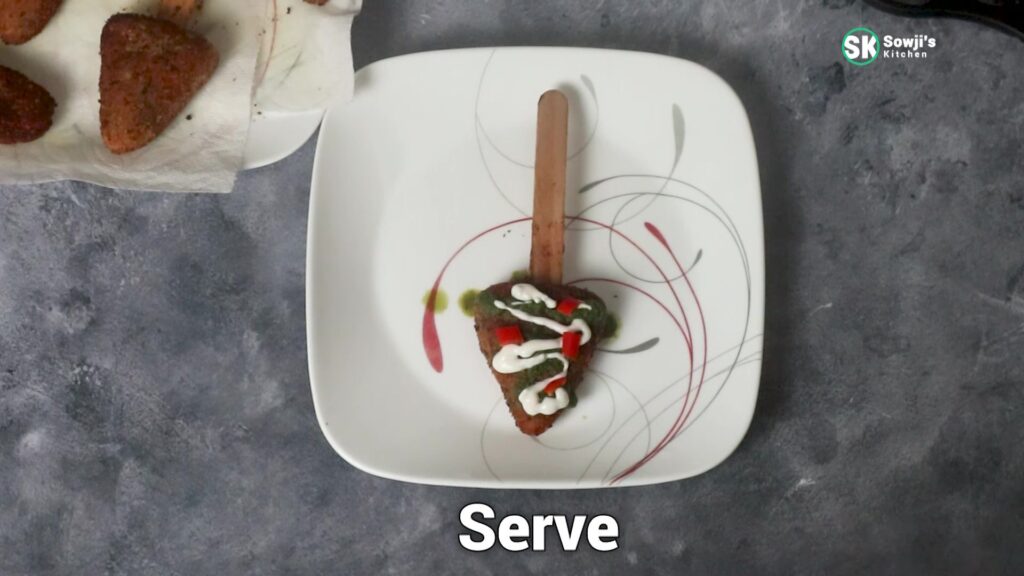 4. Christmas theme vegetable cutlet is ready to serve.