Poornam boorelu or poornalu are a popular delicacy from Andhra Cuisine made with chana dal, urad dal, jaggery and rice. Poornalu are commonly prepared during festivals, weddings and other special occasions like Varalakshmi Varatham to offer as naivedyam to the goddness.
Coming to the the recipe, it is little difficult for the beginners, but after one attempt, you can prepare it easily. If ypu are going to prepare this you need to make sure that the inner stuff is hard enough to bind into laddoos. The outer batter to wrap the laddoos should be neither too runny nor too hard. If you make a runny batter then you cannot cover the laddoos with batter a hard batter will not stick to the laddoos
TO make poornam boorelu, chana dal and jaggery balls known as poornam is prepared first. Then these balls are dipped in rice and urad dal batter. Lastly deep fried until crisp and golden.
Its definitely an art to master these boorelu. Getting them in the right shape and crust that isn't hard is something that comes by practice.
Outer covering batter can also made with homemade rice flour which is later mixer with ground fluffy urad dal batter.
Tips
Do not over soak the dal or rice as oversoaking will not make crisp poornam boorelu.
Blend the batter to a slightly coarse texture to give a crisp texture.
The consistency of the batter must be thick and not free flowing.
Do not add jaggery to the chana dal unless it is cooked fully.
Visit my other popular and related recipes collection like
How to make Poornam Boorelu with Step by Step:
Soak rice and urad dal for 4 – 5 hrs in water
2. Cook chana dal with water in pressure cooker for 4 -5 whistles. The dal must still hold shape and when mashed it must turn soft. Drain off the dal in a colander.
3. Add dal to fry pan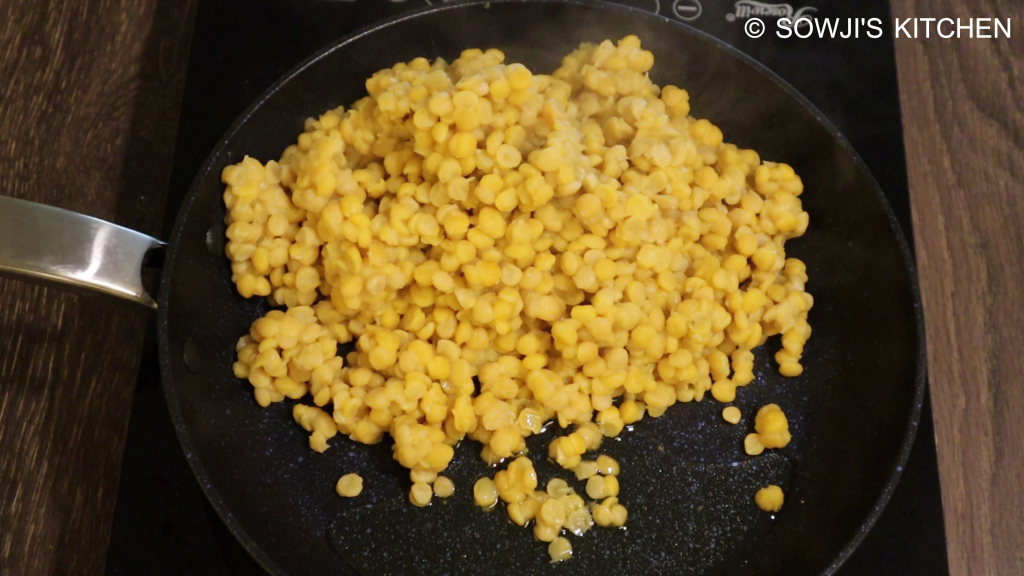 4. Then add ghee. Mash the dal to smooth mixture. We can also blend the mixture in a blender too.
5. Add jaggery to a mashed dal. Mix them well.
6. Cook till the water evaporates completely and the dal looks dry and comes together.
7. When it cools down make small sized balls.
For Making Outer Layer
8. Drain the water in rice and dal.
9. Add little salt and little water to a blender. Blend little coarse. Adding too much water will make the batter runny.
10. The consistency should be like thick dosa batter. Adjust the salt and add baking soda
11. Heat oil for deep frying
12. Dip the dal ball into batter and coat it well.
13. Drop one ball each time carefully into hot oil.
14. Do not disturb for a min to prevent breaking. Fry till golden on a medium heat.
15. Repeat frying Poonam boorelu until golden
16. Serve with hot ghee and enjoy.