Mushroom kaju masala | Restaurant style mushroom gravy with detailed photo and video recipe – This masala curry is a restaurant style dish that combines button mushrooms with cashew nuts into a thick, smooth and creamy gravy
Cooked in a tomato based sauce and spices, this no-fail Mushroom Masala is ready in 20 minutes and makes a healthy vegetarian dinner recipe . The combination of mushrooms and cashew nuts might sound unusual but I promise this could easily become your favorite veg curry.
Kaju Mushroom Masala recipe is a vegan, gluten-free delicious, flavorful Indian masala curry recipe that goes well with ROTI, naan or RICE RECIPES.  
How To Clean Mushrooms
How to Clean Mushrooms, and also how to store them which will help preserve them for a much longer time for use.
We all know that Mushrooms even though yummy in taste are a little bit on the higher price range and do go bad really fast, thus if we can preserve them for a longer run, we will be able to utilize them in our kitchen in various recipes.
As Mushrooms have a lot of water content in them it's advised to not soak them in water or else the dish that you plan to make can turn out really watery.
And as mushrooms grown in the earth and have a lot mud sticking to them it's very important that you clean Mushrooms in a proper manner so as to remove all the mud and dirt on it before cooking them.
1. Use a damp paper towel to wipe each mushroom, one at a time, to remove any dirt.
2. when you don't have time to individually wipe each one? At that time quick rinse the mushrooms with cool water or running water and pat dry with paper towels. Don't soak the mushrooms. Because they absorb water like little sponges, mushrooms won't brown nicely when cooked if they are full of water.
How to Cut Mushrooms
After cleaning mushrooms, trim thin slices from the ends of the stems.
Using a sharp knife, cut the mushrooms into halves or quarters, or slice or chop as needed.
Tip: If a mushroom stem is tough, trim it. Always remove mushroom stems before cutting; they are very tough and not pleasant for eating.    
Health Benefits of Mushrooms:
All edible Mushrooms are a good source of B vitamins and powerful antioxidants that helps support the immune system and prevent damage to cells and tissues.
White button mushrooms are one of the few non-animal sources of vitamin D.
Mushrooms can help to lower cholesterol, protect the heart by maintaining healthy blood pressure and circulation.
Why we love this Mushroom curry
Ready in under 20 minutes
No-Fail Recipe
Easy to make Vegan
Naturally Gluten Free
Easy to make nut free, simply substitute cashew with coconut .
What is Mushroom Masala?
Mushroom Masala recipe is a traditional Indian dish that is flavorful and comforting.
It's also referred to as 'mushroom masala curry', 'mushroom masala gravy' or 'mushroom gravy' or Mushroom Curry.
The mushroom gravy masala I have uses cashew nuts (blended into a paste with , tomatoes, garlic, ginger and whole spices) which I love for their creaminess. This recipe is vegan , in i didn't use any yogurt or cream.
For making this mushroom curry i have blend tomatoes, ginger, garlic clove, cashew nuts, cloves, cardamom, cinnamon, Green chilies, red chilies and water.
In this recipe i didn't used bay leaf , if you like to add bay leaf, you can add it.
While making mushroom masala , don't add more water we need creamy paste. If you need, more water to blend, add little water.
Other wise we can also add tomato puree or tomato paste, ginger garlic paste, cashew paste , cumin seeds, Red chilli powder and garam masala powder . If you have all these ready we can add directly to pan and add white button mushrooms, rich in Vitamin B, which intensify their flavors after cooking in the rich sauce.
We can store this mushroom gravy in freezer for 1 week. Before using this curry from freezer, curry will becomes very thick, so add little warm water and mix well. Mushroom gravy is creamy and smooth consistency in mins and serve with any rice like jeera rice it tastes so good.
In this recipe we can also add any vegetables like, green peas, capsicum, potatoes ..
For vegetarian, it is very healthy option of taking mushrooms in our food. I have made different curry recipes, biryani recipes by using mushrooms. Mushroom recipes in my blog like, MUSHROOM DUM BIRYANI, MUSHROOM STRONGOFF, MUSHROOM STIR FRY, MUSHROOM CURRY.
We can also make different snacks and paratha by using mushrooms.  Further i will post different categories using mushrooms.
Growing up in India, Mushroom masala was a treat we enjoyed only at restaurants, since mushrooms were not as readily available in markets. After i came to USA, my husband love this mushroom a lot. As we are vegetarians, it is one good source of eating mushrooms. So i used to cook mushrooms in different ways in my kitchen.
Kaju Mushroom masala gravy curry | Restaurant style mushroom gravy video recipe :

Visit my other popular and related recipes collection like
How to make Mushroom Cashew Masala with step by step
Preparing masala
1.Take a blender, add cashew nuts, tomatoes, ginger, garlic clove, green chiles, red chiles, cloves, cardamom, cinnamon stick  and water . (We can also add soaked cashew for 30 mins in warm water before blending or we can use directly. )
2.Blend into smooth paste. 
3. Masala paste is preapared and keep them aside.
Mushroom curry
1.In a wide pan, add oil.
2.Once oil is heated up, add cashew nuts and fry on medium heat until golden brown. Keep aside.
3.Now in same pan, add chopped mushrooms and cook on medium heat till light golden brown in color and set aside. (Don't over cook mushroom, again should be cook in gravy)
4.Take another pan, add oil to that pan.
5.Once oil is heated up , add cumin seeds and onion and cook till light golden brown in color.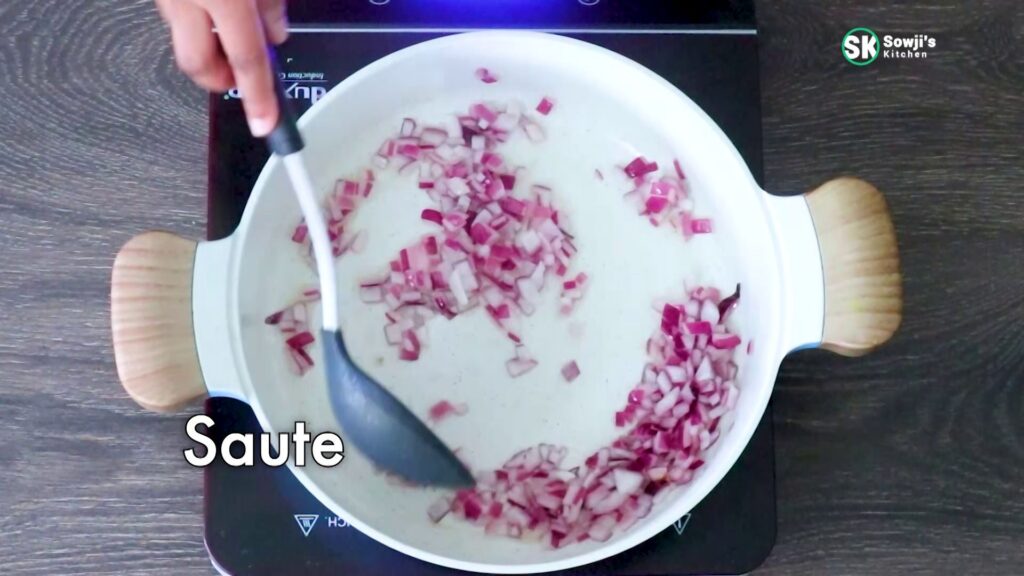 6.Add the grounded masala paste and boil for 3-4 minutes on medium heat, add 1/2 cup water and let the gravy thickens and the oil rise.
7.Add Chili powder, garam masala powder, turmeric powder, cumin powder and coriander powder to gravy and mix well.
8.Add teaspoon salt to taste.
9. Add fried cashews and mushrooms and cook for 3-4 minutes on medium heat.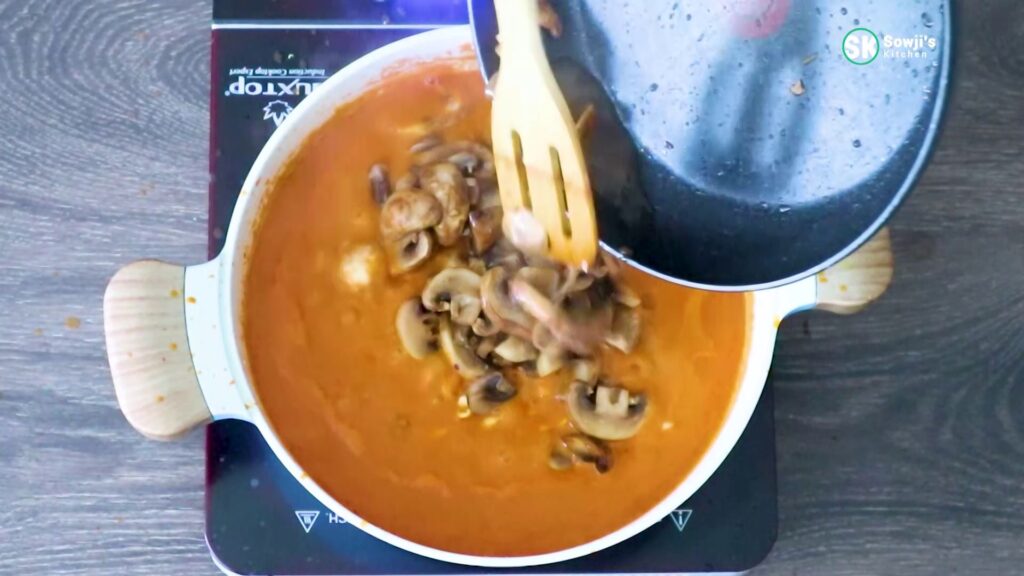 10. Finally add lemon juice and coriander leaves or fresh cilantro , mix well. Mushroom masala gravy is ready to serve. 
11. Serve with roti, chapthi, paratha or Steamed rice.